FIRE OF 1996

---

Headquarters and Retreat Center Destroyed By Fire A Few Days Before Thanksgiving
(Monday, November 25, 1996)
---
Gary, Deaf, was awakened by the smell of the smoke. When he realized the Headquarters was on fire he yelled for his family, hearing, (his wife and two sons) to get up. The call to the fire department went in at 3:46 am, and the firemen continued to fight the blaze until after 8:00 am. The fire chief said another 15 minutes and the Barrett's would have all been overcome by the smoke and would have probably died in the blaze.
The fire was caused by old wiring in a wall in Gary's office. Everything in the house was destroyed and very little was able to be salvaged. Much of the office equipment, including the computers, was damaged from the water and smoke. All clothes and furniture were destroyed plus twenty-three years of pictures and mementos. Damage to the structure and contents is estimated to be over $175,000."
Across the street from the ministry Headquarters is the Deaf Evangelism Training Center (ETC). Fortunately, the fire did not spread to the Bible school or any of the dormitories.
With the wonderful growth and exciting things that God has been doing, the loss of the ministry Headquarters was a tremendous disappointment. The Retreat Center is known nationally as a place where pastors, missionaries and lay leaders in Deaf ministry can visit for a time of rest and restoration. We have had to cancel ministry engagements as a result of the fire. It's tempting to ask God at a time like this, "Why?" But we know, no matter what, God is in control and He is able to take a tragedy like this and use it for His glory.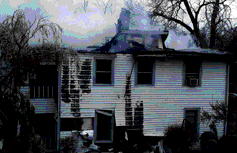 Gary's personal favorite scripture is Proverbs 3:5-6 which says, "Trust in the Lord with all of your heart and lean not on your own understanding; in all your ways acknowledge him, and he will make your paths straight," (NIV).
While we do not understand why this has happened we know that as we depend on God, He will lead.
God has raised up this ministry to send His light and truth to Deaf people everywhere. After praying and seeking God for His will, we decided to rebuild. We know in the natural this will be a difficult task, but with God nothing is impossible.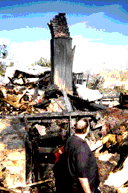 If you'd like to be a part of helping us rebuild, your prayers and financial support would be greatly appreciated. Any gift large or small will be a tremendous help in rebuilding and helping us to continue
our mission of Sending His (Jesus') light and truth to Deaf people everywhere. For us to complete the rebuilding of the new DMW Headquarters, we need your help!
Check out the rebuilding progress by clicking "Ashes to Victory" on the menu below.

Send your gift to:
Deaf Ministries Worldwide
P.O. Box 985
Sulphur, OK 73086
or e-mail us by clicking here.