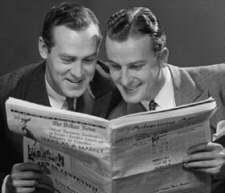 Previous Tips of the Week

Use direct withdrawal on every bill as possible. This not only includes monthly items but things such as insurance. The main idea here is to SAVE STAMPS. A typical household can save over $40.00 per year on stamp costs by using direct withdrawal.

If you shop at any older stores that use marking guns to label prices, try picking the items in the back of the shelves. Sometimes during markups these items do not get tagged.

Make HOT COCOA MIX for 10 cents a serving instead of over 25 cents a serving for a national brand. Mix up 8 quart box of instant milk, 11 oz. coffee creamer, Two 1 lb. boxes of instant cocoa, 1 lb. box of powdered sugar, 1 tbs. salt. Use 1/4 cup servings.

When buying flowers from a flower shop, take in your old vase and save 50 cents to $3.00, depending on vase size.

Ok, this might sound stupid, but we're really splitt'n peas on this one. Literally. Dr. Julie says you're supposed to take vitamin C in the winter to keep ya' from getting sick, which can cost alot in itself. She says take 500mg in the morning and 500mg at night. Ok, I have to admit, I think this really does work. I take it when I start to feel like I might be getting sick. And BINGO I'm right back in the saddle again. Ok here is the tip. Buy the larger 1000 mg bottles and cut the pills in half. You can save about a $1 a bottle. You might ask the pharmacist if this could be done with other prescriptions.

Some doctors allow up to a 5 % discount on your bill if you pay when services are rendered. Then you file the insurance forms yourself. On a $40.00 charge you can save up to $2.00.

We all know the best tighwad way is to not have any credit card balance, but if you do you might as well pay the least amount of interest as possible. Look for 5.9% (or less) no annual fee, no charge for balance transfer. Then in about 10 months start looking for another one.

To keep drains free flowing and odors down, pour one cup baking soda and one cup vinegar down drains once or twice a month.

When picking up prints at the photo lab, be sure and look at your pictures. Most labs will reimburse you for bad shots that you took.

HOMEMADE SHAKE AND BAKE; 2 cups crackers or cereal crushed, 2 cups flour, 1 tbs. sugar, 1 tbs. paprika, 1 tbs. seasoning salt. Mix and store in refrigerator in covered bowl.

Use old newspapers for cleaning glass and windows, they don't streak or leave lint like paper towels do... I thought everyone knew this, but apparently they don't. Also, you can make your own glass cleaner with water and ammonia.
Instead of buying those expensive grease cutting cleaners, try this the next time you clean your microwave, Mix 3 TBSP. lemon juice and a cup and a half of water in a microwave safe bowl. Microwave on high for 10 minutes, (I have found it doesn't really take this long.) Then just wipe the inside of the microwave clean... It really is amazing how easily all the dried on gunk wipes off... Tammy Shawver

If you keep money in a passbook savings and checking account and pay a monthly service charge, let's stop that right now. Most banks are paying about 3.25% interest for a passbook savings and charging at least $8.00 for checking accounts. Example; with $1000 in savings for a year you'll earn $25. Your checking is costing you $96 a year. So save $71 by getting a no service charge checking account. The only problem is your minimum balance will have to be $500 to $1000(check with your bank).

Keep receipts, proof of purchase and UPC's off items that might have rebates in the future. The rebates and special offers can be found in newspapers, on the product, at store counters and various other sources.

Keep a squeez bottle of soapy water by the sink for those small one or two dish jobs.

Before making purchases on your credit card, calculate how many hours work it will take to purchase the items.

Spend to save. Buy items like glue guns, shoe glue, car fix-it manuals and other items that will save money by fixing things you've already got.

Spring has sprung. It is now officially garage sale season. Find out what you need for the kids. Get a map of your city at the Chamber of Commerce. Get the local paper and plan the attack. Start early. Strap the kids in car seats even if it is just one block to the next one. Have fun. Now you're ready for your own sale. If you haven't used it in the last year, do you really need it? Don't throw it away, people like me will haul off all kinds of junk for a nickle. Get a permit if required. Talk your neighbors into having one the same weekend. The weekend after the first of the month works best. Make your signs readable. Again, have fun.

Fill out comment cards at restuarants in your area. You may be put on a list to be a mystery shopper. The company pays for your meal and a little bit extra. Most programs average 2 visits per month and last for six months.

Don't throw out that lipstick case when it runs out. Use a lipstick brush and apply from what's left in the case.

The 'Tropicana' orange juice carton, and some milk cartons, at 1.89 litres, are just the perfect size for storing 3.5" floppies.

Why not cut your spouse's and kid's hair. We were a little timid at first, but after a few times, we have gotten more comfortable with it.

Ok, so a true tighwad is not supposed to eat out that much, but when you do be sure and save the napkins and other condiments. I don't mean to steal them. If they're like most of the chains around here, when you go through the drive-thru the young employees give you none or more than you need.

Schools about out. It's time to start looking for some free fun stuff for the kids to do this summer. Find out if your library has a story hour. Check for summer school activities. Is there a mothers day out program near you. Get your own group together. For example we live next to a national park that has free movies and nature walks.

I just have to share this email from Tara Savage that I got last week. This one had me rolling in the floor. "I certainly appreciate your tips. I pack a lot of lunches and am always finding creative ways to store the sandwiches when tupperwear is not available. I save small boxes from products that I've purchased. This morning I packed my husband's lunch in one of the boxes a bra came in. I changed the bra size on the box to reflect a much larger size! All eyes will be on his lunch today!!"

This tip comes from Judith Bettinger. To make your own brown sugar at about half the cost per pound of store-bought, add 1 - 2T of dark molasses to 1 cup of white sugar and mix thoroughly. (I use blackstrap molasses, and 1T per cup makes a nice dark brown sugar.)

June is the big wedding month. Try this for an inexpensive wedding gift. Put together a gift basket by using a family favorite recipe. Put the recipe with all non-perishable items in the basket and do it up with a bow or other decorative items. They won't be taking this one back.

Summer is here and popsicles are always a hit with the kids. You don't need to buy the expensive store brand, when they are so easy to make at home. We use molds that were purchased at garage sales. Fill them up with fruit juices, jello, yogurt, jelly, leftover juice from jars of fruit and even some of the fruit chopped up in it. Try making them fun with food coloring, coconut, sprinkles. Make them multi-colored by filling them half full, freezing for a little bit, them add another color.

Keep a small list of what you pay for items that you buy alot. Then, when you're at another grocery store, you'll know if their special is really a special.

This tip comes from Mayre Jantz. Tip: Before you print a document off the internet, do a print preview. Many times, the last page is nothing but the icons at the bottom of the web page. By selecting to print one fewer pages than listed, you can save on paper.

This tip comes from Douglas S Rollins. I get posters from anywhere I can. Many companies supply them to stores for advertising. If you can't use them to decorate, they make great wrapping paper.

This tip comes from Rhonda Colombo. While waiting for hot water from your sink to get hot, place a milk jug under the faucet to collect water. Use this water to water plants, pets, etc. You'll be surprised with how much water you've collected.

This tip comes from Douglas R. White. Ready to Eat Oatmeal Tip: My wife Gail makes up batches of tastey "ready to eat" raisin oatmeal servings. Using empty 8 oz. margarine containers, the kind that come in double packages, she uses the following recipe: 1/2 cup instant oatmeal, 1/2 cup water, 1/3 cup or a handful of raisins, and 1 tbsp. of cinnamon. Put the oatmeal, raisins, and cinnamon in the container, mix it up and add the water. Snap on the lid and put them in the refrigerator. Overnight you will have a tastey serving of oatmeal! You can heat it up in the microwave or eat it cold right out of the fridge! Just stir it up and eat it! Plenty of fiber and it has a naturally sweet taste from the raisins and cinnamon. The oats and the raisins absorb much of the water just like the expensive prepackaged stuff! Make up several at once have them ready for a quick and healthy breakfast for the rest of the week!

This tip comes from Loida Zanowic. Whenever I give my daughters a birthday party (at home with homemade cake of course) We make the invitations, the decorations and the loot bags. We use plain brown lunch bags and my daughters decorate them with the name of the child and drawing of things they like and stickers! I save myself money and the kids love them. What's the first things they do with their loot-bag anyway? Open it and then throw the bag away.

This tip comes from Teri Spaulding. I make cloth napkins out of sheets and scrap material, no more bills for paper napkins. I stopped using paper towels, hand towels work just as well, no cost. Almost all detergents,(shampoo, dish soap, dishwashing detergent, ect.) recommend to use to much, I use half what is recommended and increase a little till I get it right.
Hopefully you're like us and reuse bows to wrap presents with, but like ours they usually get smashed. Try using a hair dryer to heat them up and restore them to their original shapes.

This tip comes from Lisa Hough. I use a empty tuna can. (both sides cut out) spray with cooking spray (melted butter in a recycled pump sray container), place on skillet hold down and fill with beaten egg. you can add diced up meat, cheese, vegtables etc. cook on low-med heat till firm and run knife around inside edges of can to loosen the egg. and remove can and flip egg over to cook other side. serve as a sandwich ("Egg Mcmuffin") using toast, english muffin, or even more frugal homemade biscuits. I make this 2 days a week. As my husband has to leave the house at 4 in the morning.

This tip comes from Cynthia Collett. Tuna Burgers: drain and rinse a can of kidney beans. Process in the food processor until they're pretty well chopped up. Add about 1/2 cup of bread crumbs (made from leftover bread heels, of course), 1 regular-sized can tuna, 1 egg, about 1/4 to 1/2 cup onion chunks, 1 teaspoon lemon juice (vinegar works if you don't have a lemon around). Pulse this until it is well mixed. If it's too dry add a bit of water, if it's too wet, add more breadcrumbs. Shape into patties and fry. I hate to admit it, but I use bacon grease. I know, I know, it's not very healthy, but it adds a wonderful flavor to the patties and it's free. I put them on grilled buns with each person's favorite condiments (lettuce, tomato, tartar sauce, etc.) or on a plate with creamed peas and new potatoes (2 T butter, 2 T flour, 1 c milk & cook till thick, add little red potatoes and green peas--both cooked, of course). Anyway, this is very inexpensive, will serve four to six (depending on side dishes) and even the kids love it.

This tip comes from Lauren Shockley. To shine silver do not buy the expensive cleaners. Simly line a large cake pan with aluminum foil. (Make sure that the foil completely covers all areas. add warm water to cover the item and several tablespoons of baking soda. Add the pieces of silver and wait 5-10 minutes. The grime will be gone and at a fraction of the cost of commercial cleaners. Not to mention no elbow grease!!!

This tip comes from Greg Arnett. One easy way to cut on cooking costs and time is to take one week and triple the amount of food needed for each meal. You then eat one of the meals and freeze the remainder for meals that are quick and easy to prepare in the weeks to come.

This tip comes from Marci Miller. Keep your puppies happy -- for pennies. I buy stuffed animals -- not suitable for human children -- at garage sales -- at a fraction of the cost of pet stores's overpriced doggie toys.

Make your own bubble solution. 10 cups water, 1 1/2 cup Joy dishwashing liquid, 3/4 cup glycerin. Let set for a day or two. Add food coloring for fun. Try using empty thread spools and plastic cores from adding machine tape for making bubbles.

For all your holiday recipes it's time to buy your butter now and freeze it. The prices will soar in the coming months.

This tip comes from Jerry Pociask. Having been a real estate broker for almost 20 years I am always amazed at how little we're taught in school about perhaps the largest investment we ever make in our lives-our homes. The tip I would like to offer is very simple. Reduce the amount of interest you pay on your mortgage payments by simply adding additional principle $$$$'s to the payments you make each month. It doesn't have to be every month, it could be once a year if you receive year end bonuses. No tricks, no complicated formula. All you need to do is check your mortgage document to see if there is a pre-payment penalty clause,(usually paragraph 17), and if not, you are allowed to make additional payments in any amounts at any time over the term of the mortgage. For example; a $100,000.00 @8.5% for 30 years would give a borrower a monthly principle and interest payment of $763.51. If that borrower repaid the note over 30 years, never missing a payment he would have paid back over $274,800's! However, by adding $63.63 dollars amonth to the payment and telling the bank to reduce the principle by that amount every month, the borrower would pay back the loan in 22.5 years, costing them just over $223,300 over the term of the loan! That's a whopping savings of over $51,500.00!

This tip comes from Brendan Frey. Here is a great money saver. Being a college student every penny counts. I found out many local grocers (Albertsons being my supermarket of choice) have an very unknown rule. If the shelf has a food item that has expired, and you bring it to the service desk, they will give you an unexpired item of the same product for free! I amassed about 70$ in milk and cookies in one month!
MORE HERE ON PAGE TWO!