This Site is Dedicated as a Memorial to the Men and Women, The Living and Dead,
Who Served with Distinction at
Ardmore Army Air Field
Ardmore, Oklahoma
A Training Base for the US Army Air Forces
World War II

email to gsimmons
Help! Someone stationed at Ardmore Army Air Field during WWII or the Korean War completed eight waterbased color paintings depicting Army life on a barrack interior wall. The unsigned art, each approximately 3 x 3- feet, is displayed in the Military Memorial Museum, Ardmore, OK. If you are familiar with these paintings and know or remember the artist, please contact by email or snail-mail, Military Memorial Museum, 35 Sunset Drive, P.O. Box 225, Ardmore, OK, 73402. We want to give credit to the artist and if possible record the story of his/her military experience at Ardmore and beyond. Thanks for any information you can provide!
Memory Joggers 1942-46; 1953-59 / Making It Happen 1942-46;1953-59 / This I Remember... / In Memory Of
A Small-World, God-Directed, Get-Together / A Story Of Survival / Historical Summary 1942-46, 1953-59 / A Mural of Remembrance
The Beginning
---
Some of the best Washita River bottom land in Carter County, known by residents as Henderson Flats, was secured for the base location. Twenty-one individual tenants, some of whom were borrowers from the Farm Security Administration, were farming the 2,000-plus-acre area. The Farm Security Administration's Resettlement Program was providing several 40-acre farms for down-and-out farmers on 650 acres of government owned land in the area. This land also became part of the base. Following a bitter time of protest, the farmers had to give up the land. Their homes, barns and fences were dozed or moved elsewhere and the land made level. Not a pleasant time for the farmers or government officials but the lawyers were grinning.
The Ardmore Army Air Field was activated August 3, 1942. The base entrance is a mile north of Gene Autry, Oklahoma, formerly known as Berwyn. Berwyn was a Chickasaw Nation, Indian Territory community founded before statehood in 1888. The town, by petition of its citizens to honor a well-known newcomer, was renamed Gene Autry, November 16, 1941, before work on the base was begun.
The Name Change
---
Gene Autry, the popular western actor, entertainer, and star of the "Melody Ranch" radio program, leased 1,200 acres of land in 1938 a few miles west of Berwyn. He purchased the "Old Berwyn Ranch" as it was known, August 12, 1941, and renamed it the Flying "A" Ranch. He probably had plans for spending time at the Flying "A" but time was in short supply. He was a busy man that starred in movies, made recordings, and was the featured entertainer at most of his Flying "A" Ranch Rodeos. He kept the Flying "A" Rodeo stock at the ranch. That, plus the fact that it was centrally located in the US, was probably the principle reason for buying it. It might have been the retirement home of Champion, his famous horse. However, the war was an interruption and his plans were changed.
He enlisted in the Army Air Corps in July, was inducted at the Chicago Induction Center and reported to Bolling Field, Washington, DC, August 1, 1942. Sergeant Autry visited the Ardmore base to view construction with several Ardmore businessmen and the base commander in early November 1942. He had ridden in the Armistice Day parade at Stillwater, Oklahoma and was being flown to Ft. Worth, Texas by pioneer Ardmore pilot, Arthur "Art" Oakley. Autry was stationed at Luke Field, Glendale, Arizona at that time.
The Flying "A" Ranch changed title ownership in March of 1946. Autry spent very little time after the war on the ranch or in his namesake town. He performed at the rodeo in Ardmore in 1949 and 1957 and might have visited both while in the area. An Autry acquaintance related that Autry came through Gene Autry in 1991 when he was in Oklahoma to be inducted into the Oklahoma Hall of Fame. As far as is known, his limousine did not stop. In 1992, prior to Autry's death in 1998, a museum was established in Gene Autry by a local citizen to honor Mr. Autry's achievements. It also preserves the memory of the other singing cowboys of the B-class western movies of the 1940s. The younger generation will remember Mr. Autry as owner, then co-owner, of the California Angels baseball team, the 2002 World's Series winner, now known as the Los Angeles Angels. Mr. Autry would have been proud!
Gene Autry, the town, changed little through the years in spite of the close proximity of the base. Land owners near the base and town apparently had no interest in housing developments in spite of the need during both periods of base activity. Census records for 1940 indicate 227 residents. By 2000, the number was 99; 158 in 2010. The school was closed many years ago and is now the Gene Autry Oklahoma Museum.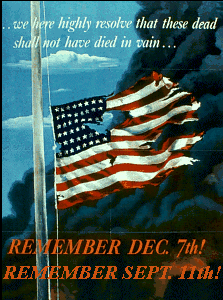 Remember The Day of Infamy
And 9/11
Do Not Forget!...
The First Time Around---World War II
---
The base carried the name of Ardmore, the nearest town of size, 16,886 population in 1940; 23,711 in 2000 and 24,283 in 2010. Ardmore is county seat of Carter County and is situated approximately ten air miles southwest of the base. Some during that period, and even now, referred to it as the Gene Autry Base.
In 1940, Ardmore's Chamber of Commerce, like many US cities, was interested in securing a defense oriented entity to boost the economy of the area. Potential proposals included a munitions factory, a navy base at nearby Lake Murray, a marine training base, an air corps flying field and several other imaginative possibilities. All were submitted to the proper governmental authority. The army air field seemed to have potential, especially as a glider training base.
A committee of Ardmoreites and military personnel was formed in 1941, prior to Pearl Harbor, to select a site for an army air corps training base. The committee first considered a site near Lone Grove, Oklahoma, a small community approximately seven miles west of Ardmore. The large area of flat land north of Lone Grove would have seemed to be ideal for an airfield. That possibility was quickly dismissed in favor of the Gene Autry location which was recommended to the military for consideration. The deciding factor for location might have been the availability of the 650 acres of government land near Gene Autry. The military approved the committee's proposal if the land could be bought and leased to the government within a short period of time. Within two months, Ardmore citizens approved a $100,000 bond issue, 44 to 1, to finance the purchase of the land (1416.28 acres). The government contributed the other 650 acres it already owned in the area. The committee learned from congressional representatives, April 22, 1942, that the base was coming to Gene Autry. The land was leased to the government for the duration of the war plus six-months for one dollar. The large, flat area would allow for long runways, the longest 7200' x 150', suitable for all aircraft of that period. That remains true for most of today's aircraft. The area was an adequate distance from large population areas.
The initial plans were that the base would serve as a glider training facility. The Arbuckle Mountains located to the north and east of the base would have been ideal for creating updrafts and down drafts. But plans, purposes and commands change, and did several times, before the base was completed. Fast Forward Note: The NASA Space Program used our highest form of glider, the space shuttle. The tragic destruction of "Columbia," February 1, 2003, reminds us anew of the uncontrollable nature of a heavy aircraft without power. Our deepest sympathy to the loved ones of the crew.
The first commander of the base, Lt. Colonel James M. Walker, set up Headquarters in Ardmore, August 9, 1942, in the Wirt Franklin Building. An Infantry officer and decorated WWI veteran with an engineering degree, he came to Ardmore from Camp San Luis Obispo, California. Busy with planning and work on the base, US Army Engineers from Denison, Texas under command of Captain D. U. Gray, already had offices there. Walker supervised construction of the field from there until quarters could be established on the field, September 15, 1942. The first ten enlisted men arrived from Stout Field, Indianapolis, Indiana in September. They lived with three Ardmore families until quarters were finished at the base. As construction progressed, additional officers and enlisted men were assigned to the field. Lt. Colonel Charles R. Blake assumed command, October 15, 1942.
The first group of soldiers to arrive were under command of the First Troop Carrier Command of Indianapolis, Indiana (Stout Field, Glider and Troop Transport). On November 21, 1942, the 418th Headquarters and Air Base Squadron arrived. This contingency consisted of 262 enlisted men, 13 officers assigned, plus 30 enlisted men and four officers attached.
In the following weeks and into early 1943, approximately 200 glider pilots were assigned to the field along with 15 liaison aircraft (L3-C Aeronca and L2-A Taylorcraft) for use in training. At the time of the glider pilots arrival, individually or in small groups, only four base officers were qualified as pilots. These included Lt. Colonel Boyd R. Ertwine, Base Commander as of February 3, 1943, Captain A. H. White, Base Operations Officer, Captain John T. Snyder, Base Technical Inspector and Lt. Warren C. Wood, Assistant Base Operations Officer. One of these officers would fly with a glider pilot (Flight Officer) whom they had selected based on his previous military and civilian flying experience. Those who passed the test were certified as check pilots to give transitional training to the other glider pilots. No flight could be made unless one of the two occupants was a check pilot. A CG-4A glider was brought to the field from Detroit, Michigan but reports indicate it saw limited use while at the base. Glider pilot training never materialized on a large scale or for very long. The glider pilots, most of whom had civilian licenses or had been in military flight training, usually trained in the first phase of glider instruction with light aircraft that could glide for long distances with reduced power or with engines turned off. Advanced phases included the use of "two-place" sail planes and the large CG-4A glider.
Ardmore Army Air Field was transferred from the Second Air Force to the command of the Third Air Force on April 12, 1943. Shortly thereafter, on April 15, 1943, several hundred men from both groups of glider personnel that had been at the base for a short time were transferred to Bowman Field, Louisville, Kentucky or commands elsewhere.
History will not record Ardmore Army Air Field as a strong contributor to the proud history of the glider pilots but many who were at Ardmore later played a vital part in key operations wherever troops and supplies were needed.
Following the theme, base commanders also began a succession of change. Lt. Colonel Boyd R. Ertwine, former CO of the 10th Troop Carrier Group, Pope Field, North Carolina, replaced Blake, February 3, 1943. He opened the base to visits by civilians, April 6, 1943 (National Army Day). In spite of high winds and dust, an estimated crowd of 8,000 had their first chance to view selected buildings and non-restricted sections on the unfinished base. Ertwine's command ended, July 19, 1943, when he was replaced by Lt. Colonel Frank J. Siebenaler. Ertwine was a popular commander with citizens after acquainting them with base activities. He was transferred to Congaree Army Air Field, Columbia, South Carolina.
In June 1943, Ardmore Army Air Field became a sub-base of Will Rogers Field along with three other Oklahoma fields and one Kansas field. Will Rogers Field, located at Oklahoma City, changed to base status.


394th Inspection at MacDill Field
The Ardmore facility was designated, July 12, 1943, as a Martin "Marauder" B-26 Crew Training Base. The 394th Bombardment Group's four squadrons, the 584th, (Captain Kenneth T. Wilhite, Squadron Commander); 585th, (Captain Edward B. Saxon); 586th, (Captain Joseph M. Silk) and 587th, (Captain Robert E. Keating), under command of Lt. Colonel Thomas B. Hall, were here during a brief period of five weeks before they were transferred, August 19, 1943, to Kellogg Field, Battle Creek, Michigan. They had previously been stationed at MacDill Field, Tampa, Florida since activation, March 3, 1943, and were involved with Phase Two crew training while at Ardmore. This involved local and distant training flights with simulated missions allowing all crew members to practice and improve their skills. Classroom instruction was also part of the program. At this time, no gunnery or bombing ranges were associated with the Ardmore field. It is reported that the 394th used a bombing range located in the Great Salt Plains area of northern Oklahoma as did other training units. The outlines of a German battleship, the Scharnhorst, and an oil refinery were used as simulated targets.



The number of personnel and aircraft while at Ardmore is not available but it is assumed that it would have been similar to data available for the unit when at Kellogg Field. At the end of August, soon after their arrival there, the group had 219 officers, 1,118 enlisted men, and 31 aircraft. Two B-26s had been lost during the Ardmore assignment. One crashed near Port Vincent, Louisiana, approximately 17 miles southeast of Harding Field, Baton Rouge, July 12, 1943. It was on its initial flight to Ardmore; the crew of seven all perished. Another was lost, July 23, 1943, northeast of Norman, Oklahoma on a cross country flight from Ardmore to Oklahoma City. The aircraft hooked a cable while flying down the South Canadian River. All the crew survived without injuries and the government compensated the farmer for damage the aircraft did to his potential cotton crop.
The commanding general of the 3rd Air Force, Brigadier General James E. Parker, visited the 394th and toured the Ardmore base, July 20, 1943. The first official ground and aerial review for the group was held, July 24, 1943. No opportunity was presented by base officials for Ardmore civilians to learn of the 394th's war training activities due to its short stay at the base. Fortunately, the history of the 394th, from activation to deactivation, has been chronicled in Bridge Busters, a 1949 publication written by Captain J. Guy Ziegler who served with the unit. Much of the Ardmore information about the 394th is from this source.
Orders issued, August 14, 1943, transferred the unit to Kellogg Field, Michigan. The advance echelon left, August 17. Aircraft were dispatched, August 19, and two train loads of support troops, under command of Captain Henry D. Settles and Lieutenant Burton R. Miller, departed Ardmore, August 23, 1943.
Phase Three of crew training was completed at Battle Creek through participation in air support missions involving low-level and mid-level bombing, strafing of airfields, troop columns along highways, bivouac areas, bridges and concentrated movement of military vehicles. Some crews received seacoast patrol experience.
The 394th was assigned to the 9th Air Force at Boreham, England, March 11, 1944, and reassigned to Holmsley South, July 24, 1944. From these bases and others in France and Holland in mid-to-late 1944 and 1945, the 394th built a reputation of being experts at destroying marshalling yards, railways, bridges and factories. By the end of WWII, 30 men of the unit had been lost to accidents, 180 killed in action, 59 prisoners of war, two missing in action, 40 wounded in action, 13 evadees, and 11 injured in action. Fast Forward Note: Colonel Hall, commanding officer, April 6, 1943 to January 24, 1945, survived WWII but died in action over North Korea, February 11, 1951.
The five weeks of Phase Two training at Ardmore was a vital segment in developing the crews' fighting and survival skills. Ziegler's Bridge Busters should be a "must read" for relatives of those who served with the 394th Bombardment Group.
On August 20, 1943, Ardmore Army Air Field passed from the Third Air Force to the Second Air Force. Things seemed to solidify for the first time, September 16, 1943, with the transfer of the 46th Bombardment Operational Training Wing of the 20th Bomber Command (Headquarters, Biggs Field, El Paso, Texas) to Ardmore. With this move, the 46th BOTW became responsible for direction and supervision of Ardmore and seven other fields.

This wing had been stationed at Dalhart, Texas under the recent command, September 10, 1943, of Brigadier General Frank A. Armstrong, Jr. Armstrong, who was promoted to Brigadier General, February 8, 1943, had recently returned from overseas duty with impressive combat experience in B-17s before arriving at Dalhart and AAAFld. As a Colonel, he commanded the 306th Bomb Group, 8th Air Force, Thurleigh, UK, January 4, 1943 to February 17, 1943. (The novel, movie and television series, "Twelve O'Clock High," was based on the fictional 918th Bomb Group (B-17) stationed in England. The principal character of the novel, Brigadier General Frank Savage, was patterned after Brigadier General Frank A. Armstrong, Jr). Armstrong continued to excel in leadership positions after transferring to Grand Island, Nebraska in May 1944.
Soon after the arrival of the 46th BOTW, a full contingency of men and Boeing B-17 "Flying Fortresses," Squadrons 588, 589, 590 and 591, from the 395th Bombardment Group arrived from Ephrata Army Air Base, Washington. Barracks that had been sparsely occupied since activation were quickly filled with support troops from various locations. In quick succession, five bombing ranges (2,550-plus acres each) and an air-to-ground gunnery range (9,430 acres) were added to the facilities of the field. On November 24, 1943, the 395th was transformed into the 395th Combat Crew Training School providing instructional personnel for the training of new combat crews for the B-17s.
---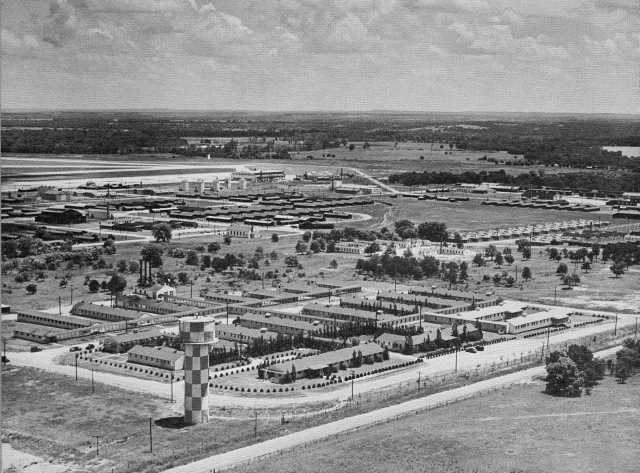 Ardmore Army Air Field, 1945

---
Finally settling down to business, Ardmore Army Air Field became a receiving facility for new pilots, navigators, gunners, bombardiers, radio operators and flight engineers as they completed their specialty training elsewhere. While serving here, they were conformed through a 24-hour, seven days a week, grueling schedule into highly proficient B-17 combat crews. This was accomplished through a rigorous training program in the classroom and sky. The combat crews were only at the base for five months or less, usually three, before shipping overseas. Reports indicate that combat crew training was coordinated to allow trained crews to finish their three-month training on a five-week graduation schedule. Orders supplied by a former waist gunner stationed at Ardmore, included 55 B-17 crews, transported by rail from the base to Grand Island, Nebraska. Many of the B-17 crews went directly from the Ardmore field to Grand Island, then to European commands to contribute significantly to ending the war. They were assigned B-17s at Grand Island, that they flew to England; others traveled as crews by ocean transport from Camp Kilmer, New Jersey to their overseas assignment. On March 25, 1944, the 395th designation was changed to the 222nd Combat Crew Training School by Second Air Force, General Order No. 35. The 395th was inactivated, April 1, 1944.

In addition to the base commanders already mentioned, Lt. Colonel Leo J. Leeburn became base commander in October of 1943. He paid special recognition to the 700-plus civil service workers at the base in early December. Base officials also presented ribbons to 246 civilians having 6-months service-time by November 1, 1943. The recognition service was held, December 8, 1943, at the newly completed Civic Auditorium in Ardmore. Leeburn's command was brief as he was replaced by Colonel Donald W. Eisenhart in December. Colonel Eisenhart opened the base to civilians, February 11, 1944, to view a B-17 up close, visit selected buildings, and watch a bombing demonstration. Sub-freezing temperature and ten-plus-mph winds limited the crowd to an estimated 5,000 visitors. After approximately five months, Eisenhart was transferred to Dalhart, Texas and was replaced, May 1, 1944, by Lt. Colonel Hudson H. Upham. Civilians got another opportunity to visit the base, August 1, 1944, on the 37th anniversary of the Army Air Force. Attendance was lower than on previous opportunities to visit the base.

The centralized geographic location of the base made it convenient for military aircraft of all designations to use the base for cross-country training flights, refueling, and emergency stop-overs for repairs. It was a common occurrence to see most of the aircraft types used by the military in the southern Oklahoma sky.

A WAC contingency of one was assigned to the base, June 5, 1944. Other WACs from Oglethorpe, Georgia and Colorado Springs arrived June 23 and June 28. In the weeks that followed others were assigned to Ardmore bringing WAC Squadron numbers to around 100. According to newspaper accounts, the Ardmore base was selected in September of 1942 as one of nine southwestern camps to train WAACs. Later, the Corps of Engineers, Denison, Texas, under command of Colonel W. W. Wanamaker, approved a $50,000 to $100,000 building fund for WAAC quarters. Contract for the WAAC barracks was let to Builder's Construction Company, Oklahoma City, April 17, 1943, for an amount under $50,000. It is unknown as to whether this unit was part of the original plans for training WAACs. Women's Army Auxiliary Corps became the Women's Army Corps in 1944 granting them the same benefits as soldiers. Another group of young women who played an important part in WWII and probably brought aircraft to AAAFld on occasion were the WASP, Women Airforce Service Pilots. A biography of one of these, Florene Miller Watson, gives an insight to their important role in the war effort.

After serving as deputy field commander for about a month, Lt. Colonel Robert Edward Northcutt replaced Upham as base commander, November 15, 1944. Like previous commanders, Northcutt had a meritorious background with combat experience. As speculation arose that the war might soon end, commanders seemed to change about as often as combat crews. Northcutt was in command when Victory in Europe was announced, May 8, 1945.

Abstracts on file at the Air Force Historical Research Agency, Maxwell AFB, Alabama, indicate that Ardmore Army Air Field was relieved from assignment to the Second Air Force and assigned to command jurisdiction of the Third Air Force, Third Bomber Command, 89th Combat Crew Training Wing, June 16, 1945. The 222nd Air Forces Combat Crew Training Base Unit was redesignated as the 332nd Combat Crew Training Base Unit (332nd Combat Crew Training School).

Continuing the trend of short tenure, Lt. Colonel Clyde G. Gillespie replaced Northcutt and acted as CO and inactivation project officer for a few weeks until relieved by Lt. Colonel Henry B. Earthman in late May. Colonel Raphael Baez, Jr. replaced Earthman in July 1945. Colonel Paul D. Brown was base commander for a short time before leaving to attend a command school. Colonel Paul A. Zartman was commander when WWII was officially over, September 2, 1945. Shortly thereafter, unexpected news came that the base would be closing no later than September 30, 1945. Troops began leaving the base as early as September 18, many going directly to separation centers for discharge. Some civilian employees were given opportunity to transfer to other locations. The base had a contingency of approximately 10,000 men at the height of the war according to a newspaper article.

German war prisoners were confined on the base beginning June 1, 1945 through November 1, 1945. They, in fact, had a vital part in helping the last remnant of military and civilian personnel deactivate and close the base. Their experience at Ardmore was a life of ease compared to what American POWs encountered in enemy camps. In recent years, some held here and elsewhere in Oklahoma visited their places of confinement to refresh their memories.

Death In The Friendly Sky

---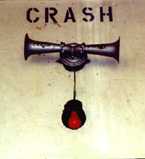 Crash Horn In Base Fire Station

---
During the tenure of the base, several air crashes claimed the lives of crewmen. Newspaper interviews with base firemen of that period reported they worked a major crash about once a month. Not all of them had fatalities. Information obtained thus far indicates at least 26 accident and incident reports were recorded involving B-17s, two were for the same aircraft on different dates. Of ten bases in the 2nd Air Force, Ardmore ranked the lowest in accident rate for the specified period of comparison. Obtaining information about fatalities has been a slow process. Photographs of the base and personnel, other than old micro-filmed newspaper photos and a base year book, are difficult to locate. Cameras, except those of military photographers, were not allowed on the base in restricted areas . News accounts, other than social events and public information releases of "happenings" at the base are scarce because a war was in progress. Most, if not all accidents on the base without fatalities, were classified and the general public did not learn of them. "A slip of the lip can sink a ship" or down a plane.
The first crash with fatalities occurred seven miles southwest of the base March 14, 1943. The Aeronca L-3C "Grasshopper" (43-1501), a light training plane, carried two Flight Officers, 2nd Lt. Emil M. Horkavi and 1st Lt. Frank M. Dimond. They died instantly in the 2:30 PM Sunday afternoon crash north of Ardmore on the O. F. Kramer farm. Horkavi was from Gary, Indiana, Dimond was from Wilmington, California. This crash and at least one other L-3C accident without fatalities occurred while the 418th Air Base Glider Squadron was at the base. Additional information about Lt. Horkavi is provided by a nephew in "This I Remember...." Fast Forward Note: The nephew and his mother traveled to Ardmore for the dedication of the Remembrance Memorial, May 26, 2003.
A B-26C, (41-34770), with a crew of seven on its way to Ardmore from MacDill Field, Tampa, Florida, Monday, July 12, 1943, crashed near Port Vincent, Louisiana, killing all aboard. This was the first accident with fatalities since activation of the 394th Bomb Group, Monday, February 15, 1943 at MacDill Field. This accident was sad news for 394th personnel as they arrived at Ardmore, their new field assignment. The crash was assigned to Ardmore even though the aircraft had never landed here. Captain Sheldon M. Pierce was aircraft commander.
On Friday, July 23, 1943, a B-26B (41-18243) of the 394th Bombardment Group piloted by Lt. Elmer E. Herron on a cross-country to Oklahoma City crashed approximately three miles northeast of Norman, Oklahoma. The aircraft struck a cable stretched across the South Canadian River disabling the left engine forcing a crash landing in a cotton field destroying the aircraft. Fortunately, there were no injuries. Lt. Herron later flew with the 394th in the European theater and received the Distinguished Flying Cross in recognition of his gallantry. Flying with the 586th Squadron, April 1944 over France, one engine was disabled by enemy fire after he had dropped his bombs. He feathered the prop and flew for one hour and 35 minutes on one engine back to England. His good engine became so overheated that he had to land at the first airfield he could find. He landed the wounded aircraft without further damage. The 2,000 foot strip, a bare minimum for the B-26, sure beat the cotton field! The experience he received from the Norman accident ten months earlier, might have saved his and the crew's lives.
Four crewmen were killed instantly and four were injured in the crash of a B-17F (42-3466), Thursday, November 4, 1943. The severely injured pilot, Lt. Derald C. Holland, died two weeks later in the Borden Army Hospital, Chickasha, OK. The crash and burn occurred on a hill in the Arbuckle Mountains two miles north of the base during a landing attempt at 8:12 PM. On 170-degree final, the aircraft failed to clear the obstruction by approximately six feet, hitting the trees and descending down the ridge until it piled up against the next one. The injured co-pilot, Lt. Ronald L. Call, who survived the crash, was later decorated for his effort in providing aid to surviving members of the crew.
Several B-17s from Ardmore were lined up, Wednesday, November 17, 1943, for take-off from Galveston Army Air Field, Texas. They were to participate in a high altitude formation gunnery practice over the Matagorda Air-to-Air Gunnery Range. For some reason, the aircraft ahead of 42-5270 was delaying take-off of the others and could not be reached by radio. Instructor pilot, 2nd Lt. Frank P. Hill, asked Lt. Leland D. Jewell, co-pilot, to go to the other aircraft to check on the problem. Lt. Jewell exited the aircraft through the bombardier escape hatch and was struck on the right side of his skull by Number 2 propeller at 0830 Central War Time. He died several hours later in a Temple, Texas hospital.
On Thursday, November 18, 1943, a transient B-26C piloted by Lt. Arden E. Hixton crashed on takeoff one-half mile south of the base. The maintenance sub-depot at Ardmore had installed a new No. 1 engine and Hixon and a ferry crew were taking the aircraft to Love Field, Dallas, Texas. The new engine failed at approximately 100-feet altitude after lift-off. The left engine and wing broke away on impact, swinging the aircraft to the left; the right engine and wing were torn away leaving a large hole near the radio room. Hixon and the co-pilot escaped without injuries through the cockpit overhead hatch and the other two men escaped through the hole in the side. The aircraft caught fire and was destroyed. The two crewmembers received minor injuries but were able to walk away from the burning aircraft.
The newspaper account stated a B-17F (42-5136) with the 395th Combat Crew Training School crashed one mile northeast of the base at 6 AM, Wednesday, December 15, 1943. The crash was actually a quarter mile south of the base. The aircraft had taken off on the N/S runway, had apparent engine problems, made a 180-degree turn to the south at low altitude and was attempting to land from the south. It failed to clear tall trees and plunged nose down into a creek. The crew of 12 died instantly. Two of those killed were listed as passengers, classified as a pilot and a bombardier, flying with the crew as instructors. Fast Forward Note: The son of one crew member, 15-months-old at the time, was present at the Memorial Dedication, May 26, 2003.
While on a high altitude formation gunnery training flight, Sunday, January 16, 1944, Staff Sergeant Elmo A. Hagen, gunnery instructor, was killed by a stray 50-caliber bullet to his back while standing between the ball turret and waist gunners. He was with Lt. Ryan J. Lancaster crew in B-17F, 42-30761, over the Matagorda Air-to-Air Gunnery Range, 100 miles south of Galveston, Texas. The aircraft received at least ten rounds to the wing and fuselage from one of the other three aircraft in the formation. They were firing at a towed target; no gunner accepted responsibility for the accident.
Ten crew members perished in a B-17F (42-30481) crash resulting from a collision of two aircraft during formation flight training. One of the aircraft broke apart aft of the radio compartment. The tail gunner, Cpl. Joseph (Jack) William McClanahan, who parachuted successfully, was the only survivor of the crew on this flight. One of the regular crew, Cpl. Gail P. Mason, gunner, was ill and not aboard. An oxygen instructor, Sgt. Albert F. Franczyk, and bombardier instructor, Capt. Oswald L. Bernich, were extras on the aircraft. McClanahan's interesting account of the accident can be viewed here. He was erroneously listed as Cpl. James W. Clannahan in the newspaper account. The other aircraft, B-17F (42-30752), though badly damaged, made it back to the base. The crash occurred, Saturday, February 12, 1944, approximately 20 miles northeast of the base near the Mill Creek, Oklahoma community. A former Mill Creek resident who was eight-years-old when the crash happened, tells his story in "This I Remember...."
The fifth crash with fatalities of Ardmore based aircraft, occurred north of Ardmore, Monday, April 24, 1944, taking the lives of the 11 men B-17G crew. This crash happened east of Dornick Hills Golf Course, on the Mort Woods Dairy farm, near Mt. Washington School. The aircraft B-17G (42-102786) was approximately six miles from AAAFld, having taken off at 3:35 PM. The instructor pilot, Lt. Milton Hansberry, 23, with a student crew was making a local transition training flight. Pilot, Lt. Charles H. Boyer, Jr., 27, was flying as co-pilot. The aircraft was seen 10 minutes later making steep, slow turns over the golf course at an estimated altitude of 800 to 1,000 feet, apparently sightseeing. After about three turns, the aircraft exceeded 90-degrees of bank and went part way on its back. It then fell off into a 1 1/2 turn spin to the left and crashed before a recovery could be made. It was completely destroyed and burned on impact killing all aboard. The author's wife, her sister and brother, who were students at Mt. Washington, were on evening recess and were eyewitnesses. This crash was used by AAAFld training officers as an example to other transition crews as to what can happen to a heavy aircraft during steep turns at low altitudes.
Sgt. Edward M. Ragsdale, radio operator, and crewmember of B-17F, 42-29929, died parachuting, Wednesday, June 14, 1944, approximately eight miles north of Smoky Hill Army Air Field, Salina, Kansas. All of the crew except Lt. Padrial B. Evans, pilot, and Lt. Harold R. McGahan, co-pilot, parachuted when the aircraft lost two engines on a high altitude formation training flight from Ardmore to Wichita to Salina to Kansas City to Ardmore. The aircraft landed safely at Smoky Hill.
Three crew members were killed and six parachuted to safety, Sunday, September 24, 1944 in a B-17G (42-102410) 11:30 AM crash four miles north of Ardmore on the O. F. Kramer farm. This was the second aircraft to crash on the Kramer farm. According to the accident report, nine men parachuted after No. 1 engine blew a cylinder and caught on fire at around 2,000 feet on the downwind leg of the landing pattern. Three of the nine who parachuted died in their survival attempt. The engineer accidentally dropped his chute overboard and exited the aircraft on the back of the co-pilot. When the co-pilot's chest chute opened, the engineer lost his grip and perished. The navigator's chute was only fastened on one side of the harness and failed to open properly. For some unknown reason, the top turret gunner was last to leave the aircraft at an altitude too low for the chute to fully open. The aircraft crashed nose first and exploded on impact. "This I Remember..."contains a personal account of the pilot who was later assigned three of the surviving crew from this aircraft. Read the remembrance of a young girl at that time as to how her family reacted to the crash that occurred just south of their farmstead.
A highway accident north of Ardmore, Thursday, August 3, 1944, took the lives of four of the 12 soldiers returning to the base from a duty assignment to Fort Sill, Oklahoma. Three died at the scene and another died a few days later. Automobile accidents took the lives of others who served at Ardmore but they were not on duty at the time of death.
Verbal accounts of other B-17 crashes or incidents that might have resulted in deaths are being investigated. If confirmed as fatalities, these individuals will be included on the memorial page honoring the deceased.

Although they did not die as a result of enemy action in a foreign country, the unexpected loss to their loved ones was as great, or greater, than if they had been killed in battle where death was a known possibility. Funds were received to erect and maintain a granite monument in the Remembrance Memorial Park near the entrance of the base. The monument was set December 12, 2002. Landscaping and additional concrete benches were added to the area prior to official dedication Memorial Day, May 26, 2003. A large crowd of patriotic citizens including relatives of deceased airmen was present. Several veterans stationed at Ardmore during WWII and later were in attendance.

Fast Forward Note: The USAF Heartland of America Band, Offutt AFB, NE, returned to its "roots," Thursday, May 22, 2003, to celebrate its 60th anniversary since its organization at Ardmore in 1943 as the 402nd (later 702nd) Army Air Forces Band. The 40-member concert band presented a Pre-Memorial Day, Pre-Dedication, 7:00 PM concert at Heritage Hall (Civic Auditorium), 30 C Street NW, in Ardmore. The two-hour, free performance, sponsored by the Daily Ardmoreite, was given in remembrance of the men who lost their lives in training accidents while at Ardmore during both airbase activation periods. The Band did a tremendous job of entertaining approximately 1,200 attendees of various ages with their musical talents. Each rendition was rewarded by long rounds of applause, several with standing ovations. The Band entertained from the same stage and building that the original 15-member 402nd Army Air Forces band did in 1943. The Civic Auditorium had just been completed at that time.

The first monument erected in this area of remembrance was dedicated, June 22, 2000, with a memorial stone in memory of 76 US Army trainees and six American Flyers Airline civilian crew members killed in the crash of a Lockheed Electra L-188C. The crash occurred approximately one mile northeast of the field during a scheduled landing for refueling April 22, 1966. During the go-around on a second landing attempt in inclement weather, the pilot had a heart attack and impacted the mountainous terrian.

A few years ago, a memorial was dedicated to all personnel who served at Ardmore Army Air Field. It is located at the Oklahoma Veteran's Center at Ardmore. The memorial was made possible through the effort and contributions of men and women who served here, the Ardmore Army Air Field Veteran's Association. Periodic reunions were held in Ardmore after the base closed until age and declining health caught up with the group.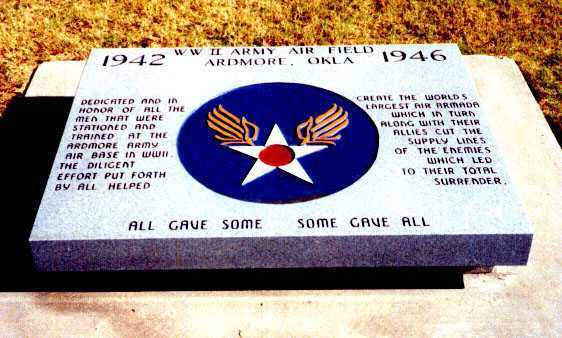 The End Of The Beginning
---

The base was closed October 31, 1945. In 1946 the government declared the base surplus property issuing a use permit to the City of Ardmore. The War Assets Administration issued a quit claim deed in 1948 to the City of Ardmore which included the land, 2085.28 acres, and all thereon. It was reported that the facility was valued at $35,000,000. A binding recapture clause stipulated it could be activated again by the government in case of military need.

Following the closing of the base, American Airlines used the base as a pilot and stewardess training center. It also served as a testing center for Chance-Vought Aircraft Corporation. The military need arose during the Korean conflict and the base was reactivated September 1, 1953 as Ardmore Air Force Base.

The US Air Force was established September 18, 1947, with first base designations beginning January 13, 1948. W. Stuart Symington was the first Secretary of the Air Force and General Carl Spaatz was the first Chief of Staff. General Hoyt S. Vandenberg, commander of the 9th AF during WWII, took command, June 30, 1948. The aviation cadet program was designated to train 3,000 pilots by the end of 1949. The North American AT-6 Texan, the WWII advanced trainer, became the basic trainer. The two-seat F-80 "Shooting Star" (T-33) was developed for advanced flight training.

Please help me have access to the base yearbook, "222nd Combat Crew Training School, Army Air Field, Ardmore, Oklahoma" published in 1944 which included a pictorial record of base activities and men stationed there at that time. Several relatives have contacted me requesting information and pictures of their kin. If you can provide one for purchase or as a donated information source, it will be helpful and appreciated. email gsimmons

---

Ardmore Air Force Base
Ardmore, Oklahoma
The Second Time Around---Eight Years Later
The Korean Conflict And Beyond

---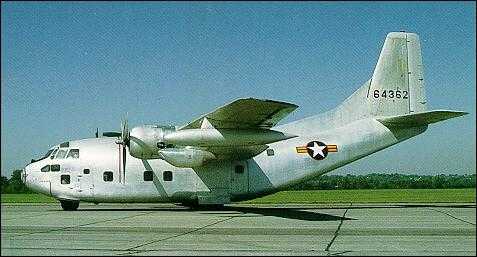 Fairchild C-123B "Provider"
---
During the second phase of the Ardmore base, the 463rd Troop Carrier Wing (Medium), 16th Troop Carrier Squadron (Assault Fixed Wing), 309th Troop Carrier Group (Assault Fixed Wing), 456th Troop Carrier Group and 419th Troop Carrier Group of the 18th Air Force were stationed here during part or all of the activation period.
The majority of the 463rd personnel were formerly with the 516th Troop Carrier Wing stationed at Memphis Municipal Airport, Tennessee. The 516th, a reserve unit called to active duty April 16, 1951, was inactivated January 16, 1953 and replaced January 16, 1953 by the 463rd Troop Carrier Wing (Medium). Colonel Willis W. Mitchell, commander of the 516th, retired January 16 and presented Colonel George L. Holcomb as commander of the 463rd.
The 463rd designation was a reactivation of the name of former 15th AF, 463rd Bombardment Group (Heavy) of World War II. The Group flew B-17s in the European Theater of Operation and was deactivated in September of 1945. The unit name went unused until December 1, 1952 when Headquarters, 18th Air Force, created the 463rd Troop Carrier Wing (Medium).
The 463rd Troop Carrier Wing, one of five TCWs of the 18th Air Force, had three tactical squadrons, the 772nd, 773rd, and 774th. The 775th squadron, also a part of the WWII unit, was activated in June 1955 at Sewart AFB, Tennessee and moved to Ardmore, November 1956, but was inactivated in the summer of 1957. The first personnel from the 463rd arrived in Ardmore in July-August with official activation of the base September 1, 1953. Colonel Cecil H. Childre replaced Colonel Holcomb as commander of the 463rd, August 20, 1954. Childre, who was promoted to Brigadier General in October 1954, had the longest tenure as commander of AAFB.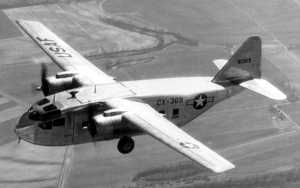 Chase YC-122
The 16th Troop Carrier Squadron (Assault) was assigned on a permanent change of station status from October 17, 1954 to July 8, 1955 when the unit was deactivated. The only fixed wing assault group in the 18th Air Force, Tactical Air Command, they previously were with the 316th at Sewart AFB, Nashville, Tennessee. While at Ardmore, they were flying the only Chase YC-122s in the USAF and world.
The 309th Troop Carrier Group, with its 376th, 377th and 378th squadrons, had its inception at the Ardmore base, July 8, 1955. It was the first tactical assault group to be organized by the U. S. Air Force. Most of the personnel from the deactivated 16th TCS became part of the 309th. The newly organized 309th received and flew the first Fairchild C-123B "Provider"assault transports used by the Air Force.
A year later, July 7, 1956, the second assault group, the 419th Troop Carrier Group was formed after transfer of the 309th to France where it remained until deactivated in September of 1958. The C-123B was introduced to the Europeans by the 309th. The 419th, also flying C-123Bs, consisted of three tactical squadrons, the 339th, 340th and 341st commanded by Colonel Frank W. Hansley. Most of the 419th personnel were from the 456th Troop Carrier Wing, 744, 745, and 746th squadrons, that transferred to Ardmore from Japan, June 6, 1956. The 456th, under command of Colonel James L. Daniel, Jr., was deactivated July 9, 1956, a month after arriving. The 419th was deactivated in December 1957.
The 463rd Troop Carrier Wing flew the Fairchild C-119 "Flying Boxcar" prior to receiving the first Lockheed C-130A "Hercules" transport assigned to the U. S. Air Force, December 7, 1956. The first aircraft (55-023) delivered to Ardmore, December 9, 1956, was designated as the "City of Ardmore". The "Open House" celebration for the event was attended by key Air Force personnel, National and State dignitaries and civilians. The "City of Ardmore" is presently on, static display at Dyess AFB, Abilene, Texas.
Many of the "firsts" for the C-130 and pilots that flew them were made at Ardmore. The amazing performance of these aircraft prompted four crews of the 774th Troop Carrier squadron to demonstrate the planes ability (and theirs) to other troop carrier wings who were to receive C-130s as replacements for their Fairchild C-119s. The four crews became known in Air Force circles as "Hercules and The Four Horsemen."


---
Fairchild AC-119G "Flying Boxcar"-"Shadow" Gunship Version (Vietnam Era)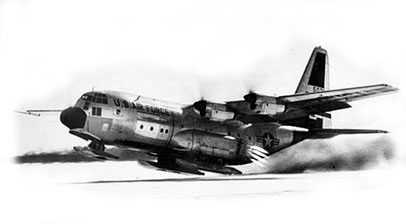 Lockheed C-130 "Hercules"
---
Colonel James L. Daniel Jr. assumed command June 4, 1957, replacing Brigadier General Childre who was assigned as Chief, Headquarters Tactical Air Command, Directorate of Operations and Training, Langley Field, Virginia. Colonel Daniel was replaced by Colonel Luther O'Hern, September 25, 1957, who served until December 10, 1957.

On September 1, 1957, six bases, including Ardmore, became part of the 9th Air Force instead of the 18th as part of Air Force reorganization. The 463rd Troop Carrier Wing became known as the 838th Air Division (Troop Carrier) but only until December 1957 when it reverted back to the former designation of 463rd Troop Carrier Wing (Medium). The 419th Troop Carrier Group (Assault) was deactivated at that time and its commander Colonel Frank W. Hansley became deputy commander of the 463rd TCW.

Colonel Daniel returned again as commander December 11, 1957. Colonel George G. Norman became commander, June 25, 1958, and served until January 12, 1959 when Colonel Frank W. Hansley, who had commanded the 838th Air Base Group since March 24, 1958, assumed command. The 838th ABG was scheduled for inactivation April 1, 1959. After January 15, 1959, the base was part of the 839th Air Division. Hansley's replacement after a short period of command was Lt. Colonel Joseph C. Hamilton, the last base commander, who served till official closing March 31, 1959.

The 463rd transferred to Sewart Air Force Base, Tennessee, January 15, 1959. Colonel Norman accompanied the 463rd to Tennessee and served as their commander until June 17, 1960.

Making It Work
---
The tactical flying units received the major part of the attention because of their visibility. They could not have performed without the support groups working in less conspicuous positions. The military and their civilian counterparts, served and worked together in the:
Air Base Group: Headquarters, Communications, Air Police, Air Installations and Food Service Squadrons
Maintenance and Supply Group: Maintenance, Supply and Vehicle Squadrons
Hospital Group: 4454 USAF Hospital and Tactical Infirmary
Detachment 1: 3rd Aerial Port Squadron
Detachment 11: 25th Weather Squadron
The base was estimated to have 3,000 military and civilian support people in 1953. This figure ranged from 2,000 to 3,000 depending on temporary deployment of units to other places of service.
The primary purpose of the 463rd TCW, 456th TCW, 419th TCG, 16th TCS, 309th TCG, and similar units within the Tactical Air Command's 18th Air Force was to perform a four-fold mission including airborne operations, air transport operations, air supply operations, and aero-medical operations.The 463rd TCW took part in various joint U. S. Army-U. S. Air Force exercises and maneuvers in the USA and overseas. They supported forces deployed to Lebanon in July 1958 and Taiwan in August 1958. Units from Ardmore are thought to have been involved in early development and testing (1955) of the "snatch" maneuver used later in the highly secret "Corona Project." The Ardmore based units performed with excellence wherever they were assigned.
Death In The Friendly Sky
---
Far fewer aircraft accidents occurred during this period of base activity than during the WWII period. Age and experience of the pilots would have been an important influencing factor. Thankfully, only six AAFB personnel, died as the result of fatal crashes. This crash occurred near Annapolis, Maryland, (one mile SSE of Mt. Zion), Friday, 10:32 PM, March 19, 1954, killing the six men crew of the Ardmore based C-119F (51-7993), plus one Army, a Marine, five Navy and five Air Force passengers. There were other incidents and serious situations at Ardmore and elsewhere that could have resulted in fatalities but didn't.
The first aircraft crash at the base occurred early Saturday, November 28, 1953. The Beechcraft AT-11 (C-45) twin engine monoplane bound for Ft. Sill, Oklahoma, was piloted by Captain Francis N. Satterlee, Public Information Officer for the base. Satterlee was seriously injured receiving a broken left leg below the knee, cuts and contusions. The three passengers received minor injuries. The aircraft crashed approximately 75 yards off the runway after going out of control following liftoff. It was Satterlee's first crash. He was a veteran RCAF and USAF pilot with combat experience in Korea.
A C-119 from the 773rd Squadron on temporary duty in France made an emergency landing in Sondica, Spain when an engine failed while under instrument flight conditions. The other engine quit a short time later but was restarted and ran intermittently. The crew jettisoned 15 unarmed smoke bombs to lighten the load after restarting the left engine. One bomb fell into the garden of the Duke of Mandas who lives in San Sebastian. Another C-119 accompanying the flight radioed the emergency to Sondica Airport that had an aircraft on the active runway. The runway was cleared and the C-119 landed safely with one engine still giving problems. The crew included 1st Lt. Robert Hurley, pilot; 1st Lt. James R. Slicker, co-pilot, A/2c Howard E Hallenbeck, radio operator; and A/2c Donald F Burton, crew chief. They were on a routine cargo mission from France to Madrid, Spain, February 6, 1955.
Thirteen AAFB airmen escaped injury or death in a crash, Thursday, March 3, 1955, of C-119G (51-7995A) at Hagerstown Municipal Airport, Maryland. The 774th TCS aircraft touched down short of the runway, bounced, and the right landing gear collapsed as it settled to the runway. The aircraft skidded to within 40 feet of several new C-119s. The crew exited without injuries. Although all switches were off, the right engine continued to run and backfire at various rpms, sending pieces of the propeller through the aircraft as it chopped the runway. In a few minutes, the aircraft caught fire in the cabin and cargo area and was totally destroyed. Fairchild company pilots ran to the area and moved the endangered C-119s. The plane was carrying three extra crews to receive new aircraft from the Fairchild Aircraft Corporation at Hagerstown.
A Civilian Again
---
The USAF decided to deactivate the base in 1958, returning the facility to the City of Ardmore for the second time in 1959. The release came without the recapture clause but with a stipulation that it would be used as Ardmore's Municipal Airport and be maintained in perpetuity for airport purposes. The Ardmore Industrial Airpark Authority was formed with responsibility of attracting clients to the vacated air base. The need for securing industry resulted in the formation of two community funded organizations, the Ardmore Industrial Development Corporation (AIDC) and the Ardmore Development Authority (ADA). The Ardmore Industrial Development Corporation is no longer active.
The Old Base Fifty-Seven Years Later
---
The Ardmore Industrial Airpark, owned by the City of Ardmore, is presently leased to the Ardmore Development Authority. ADA will enter into long-term sub-lease agreements with prospective companies and, with approval of city government, will also arrange for sale of airpark land to interested industries.
To attract desirable companies, the public trust will also allow reduction of lease fees or reduce land costs based on the company's capital investment and employment base. ADA is not limited to attracting firms to the Ardmore Industrial Airpark but works to bring employment opportunities to the Ardmore trade area.
Several light industries and aviation related companies have established at the facility through lease arrangements following both closings. The earlier businesses have included American Airlines, Chance-Vought Aircraft Corporation, Black, Sivals, and Bryson, Beetle Plastics, Basic Glass, Inc., General Dynamics-Stromberg Carlson, American Flyers Airline, Southern Oklahoma Development Association, Red River Research-Development Corporation, Supreme Research Corporation, S.A.E. Corporation, Samedan, Security Aluminum, Southern Star Aircraft Painting, Sutherland Airmotive, Jet Aero Services and others. Tenure for the various companies has varied through the years.
Companies and organizations presently at the airpark include Dollar General Distribution Center, Warner Gra-Gar (Contract Haulers), King Aerospace, Beetle Plastics, Briefin, Protec Fire Service, Office Outfitters, Online Packaging, Higgins Interiors, Atlas Roofing Warehouse, Lakeland Aviation FBO, Chickasaw Telephone Substation, East Jordan Iron Works, Ardmore Development Authority, Carbonyx, Department of Corrections Work Center (closed 2016), RVA (Air Traffic Control), and Arbuckle Truck Driving School. A new terminal was dedicated in December 2001 which houses the Ardmore Airpark Fire Department, pilot's lounge, airpark manager's office and "Jake's Joint", a restaurant. The "Line Shack", an aviation fuel supplier, is nearby. Fast Forward Note: National and International news was made, July 12, 2006, when Nanjing Automobile Manufacturers Corporation (Group) announced plans to establish the first Chinese automobile manufacturing plant in the United States at the Airpark. The plant was expected to be in production by 2008 and would be known as MG Motors North America, Inc. producing newly designed MG automobiles. The MG (Morris Garage) was a popular and highly desired automobile for many years in Great Britain. When in operation, the production facility would employ an estimated 325 people. Corporate headquarters would be in Oklahoma City with a research and development component at the University of Oklahoma, Norman. Another Fast Forward Note: Hold off on ordering your Ardmore manufactured MG, the event never happened! Most Ardmoreites were skeptical from the beginning, remembering the adage, "Seeing is Believing."
Thicker Wallets
---
The Ardmore Army Air Field (Base) and Ardmore Air Force Base provided hundreds of civilian jobs during construction, activation and deactivation periods for the residents of the surrounding areas. In addition, the military personnel and their families rented or purchased homes, spent their money in area towns and took part in community affairs. During the WWII period, Ardmore and other towns also felt the economic impact of Camp Howze 84th, 86th and 103rd Division army personnel from Gainesville, Texas, 35 miles south of Ardmore. Troops were trucked to Ardmore on the weekends and many were there on weekdays and nights. Some personnel secured housing in Ardmore and other communities in the area. The military personnel plus the civilian jobs provided by the bases were a major economic boost for southern Oklahoma.
Hindsight---A Missed Opportunity?
---
According to published articles, there was at least one opportunity in the mid-1950s to secure the base as a permanent military installation. Oklahoma congressmen and others interested in military bases in Oklahoma worked to convince military officials in Washington, DC that the Ardmore base should become a permanent installation. The military had several arguments against the Ardmore location but were willing to negotiate with city officials for terms they felt were necessary for the base to become permanent.
Military personnel met with Ardmore government officials and presented their stipulations for base permanence. The major point, other than the critical need for housing, was that the land occupied by the base be deeded to the government without encumbrances. City officials felt that a decision to fill the military request should be voted on by the citizens. In most situations, the mayor with council approval, had the power to sign legal documents without a vote from the citizens. However, a difference of opinion by the city attorney and his predecessor in interpretation of the law and possible ramifications that might occur, brought the decision to a vote of the citizens. The August 16, 1955 vote to deed the land to the federal government was unanimous, 1,638 to 28.
The government found problems with accepting the land due to several title encumbrances. Base permanence (if there is such a creature) was not granted although civilians and AF personnel thought it might happen. A proposed government 750-unit housing project near the base was canceled, civilian employees were reduced in number, and the "handwriting on the wall" indicated an uncertain future for AAFB. The base closing announcement was made in late May of 1958---the base would close by January 1959. The last squadron of the 463rd left in early January with official closing March 31, 1959.
Each of the deactivations brought periods of uncertainty and economic decline to Ardmore and the surrounding towns of southern Oklahoma.
Fast Forward to 2016: The Ardmore Beautification Council recently initiated a program of painting murals depicting Ardmore's earlier history on downtown buildings. The first mural depicts the beginning of settlement in and around early Ardmore, the importance of agriculture and petroleum to area growth and overcoming a destructive petroleum railcar explosion. The second mural was painted August 22-25, 2016 on the east side of the Ardmoreite Building, known as the Gilbert Building during WWII and Korean War. The subject of the second mural is the military's presence here during WWII and the Korean War. This mural serves as a reminder of the military's previous and continuing influence on the Ardmore of today. Many servicemen of both periods married Ardmore and area belles, settled in Ardmore or the area after military service, raised their families, educated their children in Ardmore or area schools and became civic and business leaders. Children from those unions are now parents, grandparents and great-grandparents, citizen participants and leaders in local businesses, government, civic groups, schools and state and national organizations.
Seventy-one years have passed since the WWII base closed. The soldiers and airmen are no longer walking the streets of Ardmore and other area towns. The 2,500+ acre area that served as their home during two wars still exists. Following the base closures, the area used by the military during WWII and the Korean Conflict was an embarrassment occasionally due to neglect of grounds and structures. Overtime things changed and the Ardmore Industrial Airpark is now home to several important industries providing employment for many. In addition, it serves as an example to other municipalities of the successful use of deactivated military bases. Hopefully, the mural will remind present-day area citizens and newcomers that the acreage occupied by the two important military installations became the birthplace of the Ardmore Industrial Airpark and the industries that exist there today.
Where Did They Go?
---
As one would expect, men from the WWII and Korean periods of base activity married southern Oklahoma women and became permanent residents and civic leaders after leaving the service. Some were discharged as soon as the war or their enlistment was over, others of both periods stayed in the service and retired after their completion of 20 or more years. Many southern Oklahoma belles also left the area with their servicemen husbands. Very little information has been accumulated as to where the WWII personnel who remained in service were transferred when the base closed. More should be forthcoming as people who know see this site.
The Internet provides information about what became of some of the units of the USAF through the years following crisis periods. Useful links that furnish information about military unit reunions and locating active and retired service personnel are also on the web.
They Closed and We Close
---
This introductory page and the eight links from it should bring back memories to men and women still living who served all or part of their WWII or Korean Conflict assignment at Ardmore. For those no longer alive, their children---now parents and grandparents---will recall the the events that changed their lives and the stories they have heard. Our desire is that these recollections be passed to their children and grandchildren. Those who lost sons, husbands, fathers, brothers and relatives while they trained here, hopefully, will accept this inadequate effort as our attempt that they not be forgotten.

---
Gathering data to construct this page filled my mind with many facts I had not known. It also brought to memory things I had read, heard and forgotten. The events of the 1940s were especially interesting to me. I was nine when I heard the Pearl Harbor news that Sunday. I had a brother already serving in the Army and his welfare was a constant awareness for our family. We lived about ten miles south of AAAFld in a rural area. I recognized and could name all the plane types as they flew over our farm entering or leaving the flight path of the base. It was an exciting time for this country boy.
My brother entered the Army with the mobilization of Oklahoma's 45th Division, attended Infantry Officer's School, and shortly thereafter transferred to the Army Air Corps. He became a command pilot and Lt. Colonel before mandatory retirement due to heart problems. He died at age 44. He was ten years older than me so he was my military contact and idol.
Why this web page? The dedication of the Remembrance Memorial Park at the Ardmore Industrial Airpark and erection of a monument with names of military and civilian crash victims of the solitary crash spurred me to want to secure the names of victims of multi-crashes during the war periods of the base. Discussing this with Butch Bridges, local historian, he encouraged me to try to find information on crashes with fatalities so they could also be memorialized and remembered. It grew from that. Mr. Bridges was the driving force in getting the American Flyers memorial established at the airpark in 2000. Individuals, near and far, helped with contributions to make it possible. Our goal, by a similar method, was to record the names of the men, who died by accident while on duty, on a permanent monument in the Remembrance Memorial Park. Volunteer contributions were received from citizens throughout the United States who also wanted this to happen. The monument was set December 12, 2002 and was officially dedicated Memorial Day, May 26, 2003. Pictures of the dedication ceremony can be viewed at the Remembrance Memorial Park website.
When searching for data, there was a surprising lack of compiled information at the local level, especially of the WWII period. This page will fill in the gaps for those of us who want others to be knowledgeable of and remember those times. It will be an ongoing event as people contribute to help fill missing links in the history of the base. The majority of individuals who view this page may not take the time or have an interest to know more about this period in our history. For those who do, the more detailed story can be found on the links from this page.
---

Please look at the next eight pages that help tell the total story.

Memory Joggers Of The Bygone Days 1942-46;1953-59

Making It Happen 1942-46;1953-59

This I Remember...

A Small-World, God-Directed, Get-Together

A Story Of Survival
---

We have linked to a few sites and pictures that will help all of us remember the planes, the people, and a time of citizen super-patriots.

Waco CG4A Cargo/Troop Glider
Cockpit of B-17 "909" by Tony Mannine
Fairchild C-119 "Flying Boxcar"-Instrument Panel
Martin B-26 "Marauder"-Instrument Panel
Fairchild C-123 "Provider"-Instrument Panel
Chase YC-122-Instrument Panel
AT-11(C-45)-Instrument Panel
Taylorcraft L-2 "Grasshopper"-Instrument Panel
Aeronca L-3 "Grasshopper"-Instrument Panel
Cockpit of Lockheed C-130A,130J, "Hercules"
Instrument Panel Lockheed P-38J
The PlaneThat Wouldn't Quit!
Jacket, Flying, Type A-2
Ardmore Army Air Field/Ardmore Air Force Base, 1943,1956
Still ServingThe Commander
The Weekly Voice Of The Field (WWII-Korean Conflict)
Inside One Ardmore Army Air Field Mess Hall and Thanksgiving Menu, 1943
Ardmore Air Force Base, Thanksgiving and Christmas Menus, 1956
B-17 Training Film Used In Pilot Training
More About The B-17 From The Pilot's Manual
The End Of The Day, Ardmore Army Air Field, 1943
Medical Detachment, Base Hospital, 1943
A List Of Former And Present Air Fields and Bases
A Source for Military Aviation Incident Reports
Kilroy was Here!
Remembrance Memorial Blog
Flight Jacket Emblem, 222nd Combat Crew Training School
Ardmore Air Force Base, 1959, After Deactivation
Base Yearbooks, 1944/1955
Condensed Base Historical Summary, 1942-46, 1953-59
Military Memorial Museum, Ardmore
---

If you, or a relative, served at Ardmore at either activation period and can furnish additional information, have pictures of the base or of men who are listed in the "In Memory Of" page---please make an e-mail contact. It is important that we eventually have pictures of each of the men who died in training. Please help this happen! Information about base units (either activation period) or aircraft accidents will be especially appreciated---or if you just want to comment on the webpage, e-mail to gsimmons

---
Click on map for Aeronautical Charts of Ardmore area and US.

---
Please Note: We believe the information on these pages is factual but will understandably need fine-tuning as additional data becomes available. If you notice something that you feel is inaccurate, please contact by e-mail as we want the information to be correct. The passing of time sometimes promotes error because those who know for sure are no longer around. The material within this document has been obtained from newspapers, City of Ardmore publications, Military Memorial Museum (Ardmore), Chickasaw Regional Library System, Ardmore Public Library, AFHRA/RSA accident reports and verbal accounts of veterans and locals. The majority of information about the 394th Bombardment Group was obtained from "Bridge Busters". Graphics used are thought to be public domain items. If this is not the case, copyright items will be removed when notified or will be used with permission of the owner. Please excuse the poor quality of micro-film newspaper scans.

Back to Top
---
Memory Joggers 1942-46; 1953-59 / Making It Happen 1942-46;1953-59 / This I Remember... / In Memory Of
A Small-World, God-Directed, Get-Together / A Story Of Survival / Historical Summary 1942-46, 1953-59 / A Mural of Remembrance

Thanks for Visiting!


A Look At The USA From Space
Southern Asia (Afghanistan-Pakistan-Iraq-Iran) Weather
Search The Web From Here
Ardmore Army Air Field/Ardmore Air Force Base Mirror Site Copyright 2000-2018
All Rights Reserved