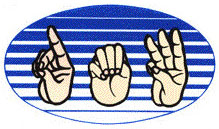 A Letter from the President
Dear Friend,

Deaf Ministries Worldwide (DMW) celebrates sixteen years of ministry in reaching Deaf people for Jesus. this year And we are convinced now, more than ever, that our theme, "Sending God's light and truth to Deaf people everywhere!" is more relevant today than it was fifteen years ago.

God has been stirring my heart for the past year, and He led me to a wonderful and powerful book titled, "THE PURPOSE DRIVEN Life" by Rick Warren. (At the end of this letter, read how you can receive this book as a gift from us!) The staff meets each Wednesday morning to study this fabulous book, and God has used our time together to open our hearts and show us clearly what His purpose is for each one of us and for DMW. Because you are a friend of this ministry, I want to share with you some of the things that God has clearly shown us so far. I say "so far" because God is still stirring our hearts, and we believe there is still more that He wants to share with us.

Gary and Rhonda Barrett

in front of the

Shalom Lighthouse Retreat Center
Hospitality Ministry at the

Shalom Lighthouse Retreat Center

Rev. John and Suzan Graham are founders of DARE (Deaf Alive Revival Evangelism) in Canada. Bath are Deaf. John recently visited the Retreat Center and signed, "Beautiful here!"

We believe that God would have us focus on our hospitality ministry to pastors, missionaries and leaders in Deaf ministry. This will be our primary outreach here at the Shalom Lighthouse Retreat Center. Of course, we have always ministered to laborers in Deaf ministry, but we have also done many other things as well. What we are sensing from God at this time is to eliminate some of those "other" things and focus more exclusively on ministering to these precious laborers who are working in the Deaf harvest field all over the world. My heart has always been to minister and encourage leaders in Deaf ministry. Hundreds of pastors and missionaries have come here for a time of rest and restoration at no cost to them. Everyone that comes here tells us how relaxing and refreshing it is to be here and how much they experienced God's peace.

I'm sure you've noticed that more and more pastors in Deaf ministry are experiencing burn out, isolation and loneliness. It is sad to see that an increased number of these precious laborers are on the verge of divorce due to the pressures of ministry and financial problems. Many people in Deaf ministry do not receive an adequate salary from their church to support their family, and that means they have to work a full or part-time job in addition to their ministry responsibilities. The pressure from working two or three jobs, trying to be an effective pastor and take care of their family is almost impossible at times.
It is grievous to see how many laborers in Deaf ministry all across the country are suffering in their family life and in their spiritual life. The devil does not want the Deaf to know that God sent Jesus to the cross to give His life so that they could be forgiven and receive the gift of eternal life. The devil does not want Deaf men, women and children to know Jesus as their Savior. The devil is clearly working overtime to destroy Deaf churches and Deaf ministries in an effort to prevent the gospel from going forth. The devil knows that if he succeeds in his attacks on pastors that he can destroy the Church which could mean more Deaf people will suffer eternal damnation because there would be less churches to share the gospel with the lost. However, Thank God for His promise! In Matthew 16:18 Jesus declared, "I will build My Church, and all the powers of hell will not conquer it." If we are going to effectively reach the millions and millions of Deaf people around the world who do not know Jesus, we need to focus on getting those (pastors, missionaries, lay-leaders) who are on the front lines of the battle refreshed and renewed.
God has given us a mandate to reach out to the laborers in the Deaf harvest field and provide a place where these precious laborers can come and "dock their boat" for a time of healing, encouragement, support and prayers. God is showing us that we must devote more of our time and resources to these workers and give them the support they so desperately need. God has spoken to our hearts and He is saying, "Do not let the enemy steal any more laborers in Deaf ministry."
God wants the Shalom Lighthouse Retreat Center to be a sanctuary, a place for pastors, missionaries and other laborers in Deaf ministry to come and "wait upon the Lord", where He can "renew their strength" so they can "soar (fly) on wings like eagles" (Isaiah 40:31).
Our desire is to see these precious servants called of God refreshed and renewed, once again, so that they can return to their churches or mission field able to fulfill the purpose that God has for their life.
Our NEW focus:

Missionaries Worldwide!

As we have prayed and asked God to reveal His will for DMW during the past several months He has shown us another area that He wants us to focus more on, and that is, to support Deaf missionaries and ministries in other countries. There is such a tremendous amount of Deaf people all over the world who have never, ever heard about Jesus. The truth is, there is not enough missionaries to reach the millions of Deaf people in the world. God is showing us that He wants to put more of our time and resources on those who are already laboring in the Deaf harvest mission field, and He is wanting us to be there to support them in every way possible to help them reach the Deaf in their country. There are almost no mission agencies or church organizations that focus exclusively on reaching Deaf people with the gospel and there are almost no organizations ministering to and supporting Deaf missionaries in other countries at this time. Isn't it time that something is done about that?

God has pierced our hearts and shown us that now is the time to focus on these precious laborers and to give them the support and encouragement they need to press on in their ministries. Many of these missionaries are isolated and work all alone, and often times no one even knows about the work they are doing. They often are lonely and have very little financial and prayer support; because as I mentioned, no one knows about them.

Missionaries Eugene and Linda Gehm

have faithfully ministered in Mexico

for almost 15 years establishing four

Deaf churches. They are also

working on a Mexican Sign Language

video/dvd series to use as a tool to teach

Mexican Sign Language.

Missionaries Eduardo and Gladys

Perdomo (front right) are involved

in pastoring and overseeing Deaf

churches and camps in Venezuela.

This picture is in front of the Deaf

church in Caracas, Venezuela.

God has given us a burden and responsibility to change this and to make more people aware of the work that is already going on in the Deaf mission field and to help in any way that we can to assist these missionaries in the work they are doing in their countries.

We plan to become more actively involved in supporting Eugene and Linda Gehm in Mexico and Eduardo and Gladys Perdomo in Venezuala. We've had a number of Deaf missionaries in other countries contact us over the past year asking for our assistance as well. We are already seeing God open these doors and confirming to us that He wants us to start moving in this direction--and that is exactly what we plan to do, with His help, His wisdom, His grace and with YOUR support.

We need YOU!
We are excited about the new direction God is leading us, and we have committed ourselves to doing what God has been revealing to us over the past few months. It will require a big commitment on our part, and it will cost a lot of money for us to accomplish this. We know that where God leads, He will provide and meet the financial needs as He always has, because He is faithful! But we also know that for all of this to become a reality we need YOU! God has blessed us with wonderful people who have supported us for the past fifteen years. Some of the people who first started supporting this ministry fifteen years ago are still supporting us today! They do this because they believe in the work we are doing and more importantly they do it because they have a burden to reach the Deaf for Jesus.
We do need YOU and we need your faithful prayers and support for us to continue to do what God has called us to do. Because we are rapidly approaching the end of the year I would like to ask you to help us prepare for the new direction God is leading us by giving your very best end of the year contribution. Your contribution, investing in Deaf souls, is the best Christmas gift you could ever give. Your contribution to DMW will enable us to do more in the Kingdom of God than ever before. Your contribution to DMW is a gift that never fades, wears out or breaks down and most of all, it is a gift that will last for all eternity! We are depending on YOU to help us share the greatest Christmas GIFT ever --JESUS CHRIST--with Deaf people everywhere. I hope that we can count on you for a generous gift!
Lord bless you and your family. I pray that you will have a most blessed Christmas and a prosperous New Year as you seek God in all you do in the coming year.
We ARE Workers Together,

Gary Barrett

P.S.: The book we've been reading "THE PURPOSE DRIVEN Life" by Rick Warren is one of the most important and most powerful books I have ever read! It is a MUST read for every Christian who truly desires to know and do God's will. In fact, it is such a good book, I want to send it to you. For your gift of ANY AMOUNT we will send you this book as our way of saying THANK YOU for your support. Once you read this book I am confident you will agree that God has an awesome plan and purpose for your life. This book has had a powerful impact on my life, and I believe it will have a powerful impact on your life too!

Your gift helps us continue to

Send HIS Light and Truth to Deaf people everywhere!

Make a secure donation online click button below

Or Mail Your Gift to

Deaf Ministries Worldwide, P. O. Box 985, Sulphur, OK 73086

YOUR GIFT IS TAX DEDUCTIBLE - THANK YOU!

Our Gift to YOU!