Diane Musil is a special friend of this ministry. Here is a picture of Diane with "Pup". I asked Diane how long she has been a Christian, and she responded, "I was saved 7/7/1977. Diane explains, "That is when I first became saved and accepted Jesus Christ as my Savior and Lord!!!!" She is a women of faith and a powerful prayer warrior. Diane loves the Lord with all of her heart and has a deep abiding relationship with Him, born out of life's struggles.

Since the beginning of this ministry, Diane has been an encouragement to Rhonda and me. Several months ago, we asked Diane if she would be willing to write devotionals, which we could add to this website, so that other people would be encouraged too. Diane graciously responded, "Yes,".

Diane is Deaf and legally blind, caused by being born almost three months premature. Many years ago, Diane was visiting at the Retreat Center here and preparing to share in chapel. Diane was in the kitchen and I happened to walk in on her as she was reading her Bible and praying. Diane had her Bible within three inches of her eyes as she diligently, slowly, was reading the Word of God. I backed out of the kitchen. That image of Diane reading her Bible has spurred me on to be faithful in reading the precious Word of God. Rhonda and I pray that God will encourage you as you read Diane's devotional below. Diane has lived in the Chicago area her entire life.

May God encourage and bless you,

Gary
This Month's Devotional - ABIDE!
BIBLE VERSES
John 15:1-10 (NCV--New Century Version)

Jesus Is Like a Vine

1 "I am the true vine; my Father is the gardener. 2 He cuts off every branch of mine that does not produce fruit. And he trims and cleans every branch that produces fruit so that it will produce even more fruit. 3 You are already clean because of the words I have spoken to you. 4 Remain in me, and I will remain in you. A branch cannot produce fruit alone but must remain in the vine. In the same way, you cannot produce fruit alone but must remain in me.

5 "I am the vine, and you are the branches. If any remain in me and I remain in them, they produce much fruit. But without me they can do nothing. 6 If any do not remain in me, they are like a branch that is thrown away and then dies. People pick up dead branches, throw them into the fire, and burn them. 7 If you remain in me and follow my teachings, you can ask anything you want, and it will be given to you. 8 You should produce much fruit and show that you are my followers, which brings glory to my Father. 9 I loved you as the Father loved me. Now remain in my love. 10 I have obeyed my Father's commands, and I remain in his love. In the same way, if you obey my commands, you will remain in my love.
In these ten verses we notice:
Jesus is the "TRUE VINE",
Christians are the "BRANCHES",
God the Father is the "GARDENER".
In verse 4 notice the word "REMAIN". In other translations the word used is "ABIDE"
In the NCV "REMAIN" is used 11 TIMES--WOW!
---
REMAIN/ABIDE means: To Continue, Keep on, Stay in
THE BRANCH means: You and me who are Christians
---
FOUR LESSONS OF ABIDE
Lesson One: ABIDE
John 15:4-5. Keep abiding--continue and continue in Christ ALWAYS! If we let go and try to do things on our own--without Christ--we can do nothing!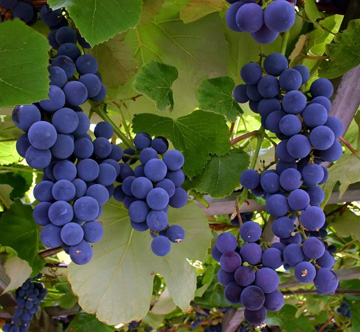 I have a question for you: Have you ever seen grapes grow without being connected to a branch and the vine? No, of course not! The grapes have to be connected to the branch and the branch has to be connected to the vine. The grapes will then grow to be big, dark purple, juicy, delicious grapes.
Lesson Two: PRUNING
John 15:2. Pruning is cutting back, trimming, cleaning and washing.
TRUE STORY:
One year my Dad did not trim the old apple tree in our back yard. Later that Summer, we only had one or two apples on the tree. That was all. The next year, in Spring, my Dad did trim that old apple tree and that Fall, we had tons and tons of apples.
How does God trim, clean and wash His branches? The answer is--through the Bible. God uses His Word to trim, clean and wash us. That's why it's important we read the Bible daily.
Our Father in Heaven knows what is best for us and through His Word: He teaches us how to live, shows us how to please Him, and He cleans us up.
Lesson Three: RESULTS
John 15:2, 5-8. As a result of pruning the branch, we will "produce even more fruit". As we produce "even more fruit" in our lives it shows that we belong to Jesus and the Father is glorified. He is worthy of all the honor and all the glory--for the fruit produced in our lives is produced by Him. The Name of Jesus is glorified, not my name.
The branch can either be "thrown away"--our lives not useful for service to the Lord,
OR
The branch can be cleaned by the Word of God as we meet one-on-one with Jesus, as we read and obey the teachings in the Word of God, meaning "our lives will be useful in service to the the Lord". We will live in a way that brings glory and honor to the Father.
Lesson Four: LOVE
John 15:9-10. Stay, abide in my love.
What is TRUE LOVE? We find the answer in 1 John 4:7-10 (NCV), " Dear friends, we should love each other, because love comes from God. Everyone who loves has become God's child and knows God. Whoever does not love does not know God, because God is love. This is how God showed his love to us: He sent his one and only Son into the world so that we could have life through him. This is what real love is: It is not our love for God; it is God's love for us. He sent his Son to die in our place to take away our sins."
TO KNOW GOD
IS TO KNOW TRUE LOVE
BECAUSE GOD IS LOVE!
SONG:

Verses

below

"Abide With Me"

Words by Henry F. Lyte (1793-1847)

Music by William H. Monk (1823-1889)

Lyte was inspired to write the words to this hymn as he was dying of tuberculosis; he finished it the Sunday he gave his farewell sermon to the the parish he served so many years. The next day, he left for Italy to regain his health. He didn't make it though; he died in Nice, France, three weeks after writing these words.

For more than a century, the bells of his church at All Saints in Lower Brixham, Devonshire, have rung out "Abide With Me" daily. The hymn was sung at the wedding of King George VI of Britain, and at the wedding of his daughter, Queen Elizabeth II.There are four different tunes that have been used over the years. The best known is titled "Eventide". Mrs. Monk described the setting for her husband's writing of the tune: "This tune was written at a time of great sorrow; when together we watched, as we did daily, the glories of the setting sun. As the last golden ray faded, he took some paper and penciled that tune which has gone all over the earth."

Verse 1

Abide with me; fast falls the eventide*; (* eventide: means evening--represents dark (sad) time in life)

The darkness deepens; Lord, with me abide;

When other helpers fail and comforts flee,

Help of the helpless, oh, abide with me.

Verse 2

Swift to its close ebbs out life's little day*; (*life goes by fast "like a vapor")

Earth's joys grow dim, its glories pass away;

Change and decay in all around I see,

O Thou who changest not, abide with me.

Verse 3

I fear no foe, with Thee at hand to bless;

Ills have no weight, and tears no bitterness;

Where is death's sting? Where, grave, thy victory?

I triumph still, if Thou abide with me.

Verse 4

I need Thy presence every passing hour;

What but Thy grace can foil the tempter's pow'r?

Who, like Thyself, my guide and stay can be?

Through cloud and sunshine, Lord, abide with me.

Verse 5

Hold Thou Thy cross before my closing eyes;

Shine through the gloom and point me to the skies;

Heav'n's morning breaks, and earth's vain shadows flee;

In life, in death, O Lord, abide with me.
PRAYER
Dear Jesus:
I want to abide/remain in you, I must abide/remain in you. Each day, give me the strength to keep going. As I think about your TRUE LOVE for me, it helps me to not give up. Help me to grow more fruit in my life so that You, and You alone, will be glorified and honored in my life. It is in Your beautiful Name, Jesus, I pray. AMEN.