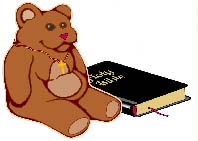 April 2010

Blessed Easter - Jesus IS Alive!
Dear Precious Parent:
April 1, Gary and I along with our grandson, Beaux (6), will board an airplane and fly to Tampa, Florida. We are soooo looking forward to visiting our son, Luke, his beautiful wife, Angela, and our granddaughters, Bella (3) and Elizabeth (5 1/2 months)--for a full week! This will be Beaux's first time to fly and he is very excited.
About two months ago, Beaux was at our home spending the week-end. We had fun making a calendar together. Beaux pasted pictures of himself, Bella, and Elizabeth on the calendar. Then he crossed off each day he was with us, keeping track of how many days were left before we leave for Florida. He took the calendar home where the countdown has continued.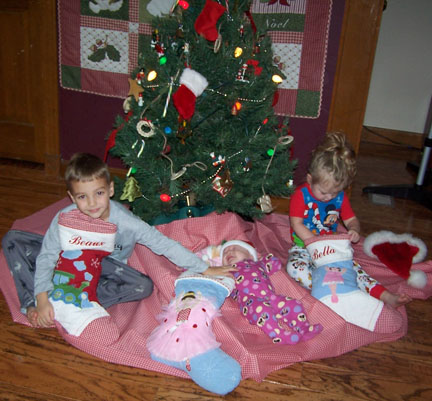 As I type this letter, there are only seven days until we fly out! "Palm Sunday, Good Friday, and Easter" are upon us. It is what happened during the "Passion Week" (and Christmas! Smile) that separates Christianity from the false religions of the world!
Jesus loved!

Jesus lived!

Jesus died!

Jesus rose!

That's worth repeating:

Jesus rose from the dead!

Jesus IS alive, HALLELUJAH!

Jesus IS coming back again!
Recently, Gary and I went to Starbucks for a latte and to chat. There were only two seats left in the coffee shop. Gary and I sat across from each other with a large coffee table in between us. There was a couch long enough to seat three people directly to my left, which was directly to Gary's right. A young fellow had the couch all to himself. Since Gary and I sign it was easy for us to communicate, even though we were seated fairly far apart.
As God would have it, that young fellow and I struck up a conversation. Gary got out his laptop.
I love "God ordained appointments" ("Jabez appointments" see Bruce Wilkinson's book, "The Prayer of Jabez").
I noticed this fellow was reading a book, titled, "Coming Back". Of course, as a Christian my first thought was "Jesus". I assumed nothing about the title of the book, rather I commented, "That's an interesting title for a book."
Then for the next thirty minutes this young guy explained to me about reincarnation. He was an "intelectual". I kept quiet that first thirty minutes--as hard as that was!--and listened intently the entire time. I learned a lot about reincarnation. He had just returned from a "monastery" in South America and was really excited and still on his "spiritual high". But I "caught" (as I listened to him) that being back home in the United States was a rude awakening, discouraging, and disillusioning as he realized he wasn't as "holy" as he thought he'd become while at the "monastery" (which was void of the world's temptations beckening him). Reincarnation, and not being holy, equals coming back "as a bug or something worse" and coming back, and coming back, until you "get it right".
The whole time this young man talked, scriptures from the Word of God kept popping into my mind catching each and every lie, each half-truth. It was an exhilerating experience. "Jabez appointments" always are.
As he "winded down" he shared that he was Jewish and usually wore his Yarmulke (that is the cap Jewish men wear on their heads). He told me that he decided not to wear it that night. As if on cue, he pointed to a young man at another table saying, "That's my twin brother" then he paused.
I looked toward the direction he pointed. Several tables were filled with college students, they were chatting away. I had already seen these young people when I first walked in, and I had noted that one fellow looked EXACTLY like this fellow sitting on the couch. Even though they were dressed differently, had different hair styles--I knew before he and I even began talking that they were twin brothers.
I responded, "Yes, I noticed your twin brother when I sat down here. Even though you two look exactly alike, you two are very different."
He nodded, acknowledging full well that fact.
I thanked him for explaining to me about reincarnation and said, "I'm a Christian."
He inserted, "I've read part of the New Testament before."
"That's good," and I continued, "Each person is made in the image of God. Each one of us is unique and one-of-a-kind different, just like you and your twin brother even though you two look alike. Each one of us is precious and loved with an everlasting love by Almighty God." Then I shared from Genesis 1, "God made everything, all of the plants, animals, people--from Adam and Eve, to you and me; everything" (and I put emphasis on) "'and each begats after its own kind.'" From there I went on to share about the lambs sacrified in the Old Testament.
I admitted to him that I'm so thankful I don't have to become "holy enough". It is my heart's desire to please the Lord in everything, but I regret that I fall short. I've come to realize, in the years I've lived on earth, "holy enough" just ain't never gonna happen. And the Word of God says, "None of us will ever be 'holy enough'". "That's why," I explained, "We can be thankful for the 'Lamb of God--Jesus'--who by His sacrifice on the cross offers forgiveness for sin and eternal life. Jesus said, 'I am the way, the truth, and the life. No one comes to the Father except through Me.'"
I asked the fellow, "How can Jesus even back up a claim like that?" I answered my own question, "Because Jesus rose from the dead!!!!!" (This is such exciting news, it changed history forever. Everything within me wanted to celebrate and cry out, "Jesus is alive! Jesus is really alive! But instead I contined sharing.)
"And Jesus said He is coming back again and all those who are 'in Christ' will be coming back with Him, and we'll all be together forever. I don't come back as a bug. I come back as me! God loves who He created--me! And God loves who He created--you!"
We talked together for over one and a half hours. Although he did not receive Christ as His Lord and Savior in Starbucks that night; no, I didn't put him on the spot; I know many good seeds were planted.
We said our good-byes and as I got up to leave he said, "I noticed your ring has Hebrew letters engraved on it. I've been trying to read it, but being on your finger has made it difficult. What does it say?"
I held out my hand and looked down at my ring, then looked back at the young man. It is a scripture from Song of Solomon, "I am my beloved's, and my beloved is mine."
The young fellow sat back on the couch. His countenance was quiet, contemplative as I left. I thank God for this opportunity to share about His love with this "seeker". Now he had much to think about, and I know Almighty God will continue to draw this young man to "see the light" and ultimately into a living relationship with God, through His Son Jesus Christ.
(On a sidenote, what I didn't share with him is that this ring is not my original wedding ring. My original wedding ring fell off my finger; miraculously I found it in the middle of the street, in front of my son's house; it was beyond repair, however, the original diamond was still intact. I specifically chose this ring because of the scripture engraved on it and had my diamond mounted on my new ring. The ring is under two years old.)
Jeremiah 29:13 (NIV) reads, "You will seek me and find me when you seek me with all your heart." This young man is seeking God with all of his heart. God is faithful. I look forward to meeting that young man on the other side.
If God allowed this young Jewish fellow to go all the way to South America searching for truth, then to return to the United States where he meets up with me at a Starbucks for a "Jabez Appointment"--will not God use circumstances and "Jabez Appointments" to draw our children to Himself as well? Of course, He will!
Do you have a son or daughter who has drifted from the Lord? Do you have a family member or friend who has lost their way? Do you have a loved one who has not yet made that commitment to Jesus? Take heart! Our God is faithful! And our prayers are powerful according to James 5:16b, "The prayer of a righteous person is powerful and effective." Below is the monthly Scripture Prayer Calendar to use as a tool as you pray.
"God is able to do immeasurably more than we ask or imagine, according to His power that is at work within us, to Him be glory in the church and in Christ Jesus throughout ALL generations, forever and ever! AMEN" (Ephesians 3:20-21).
Have a blessed month in Jesus Name, and see you next month, here, at Precious in HIS Sight.
Love,

Rhonda
Below are 31 Biblical Virtues that we want to see developed in our children.

Join with me and use the 31 Powerful Ways to PRAY for Your Children* below.

There is one Virtue for everyday of the month. For example if today is the 1st day of the month pray #1.

If today is the 15th then pray #15.

One reminder--YOUR PRAYERS ARE POWERFUL AND EFFECTIVE
---
31 Powerful Ways to PRAY for Your Children*
1. Salvation. "Lord, let salvation spring up within my children, that they receive the salvation that is in Christ Jesus, with eternal glory" (Is. 45:8, 2 Tim. 2:10).
2. Grow in Grace. "I pray my children grow in grace and knowledge of our Lord and Savior Jesus Christ" (2 Pet. 3:18).
3. Love. "Lord, may my children learn to live a life of love, through the Spirit living in them" (Gal. 5:25, Eph. 5:2).
4. Honesty and Integrity. "May integrity and honesty be my children's virtue and their protection" (Ps. 25:21).
5. Self-control. "Father, help my children not to be like many others around them, but let them be alert and self-controlled in all they do" (I Thess. 5:6).
6. Love God's Word. "May my children find Your Word more precious than gold and sweeter than honey" (Ps.19:10).
7. Justice. "God, help my children to love justice as You do and act justly in all they do" (Ps. 11:7, Mic. 6:8).
8. Mercy. "May my children always be merciful, just as their Father is merciful" (Lu. 6:36).
9. Respect (for self, others, authority). "Father, grant that my children show proper respect to everyone, as Your Word commands" (1 Pet. 2:17).
10. Biblical self-esteem. "Help my children develop a strong self-esteem that is rooted in the truth that they are God's workmanship, created in Christ Jesus" (Eph. 2:10).
11. Faithfulness. "Let love and faithfulness never leave my children, may they wear them like a necklace, write love and faithfulness deep within their hearts" (Prov. 3:3).
12. Courage. "May my children always be strong and courageous in their character and in their actions" (Dt. 31:6).
13. Purity. "Create in them a pure heart, O God, and let that purity of heart be shown in their actions" (Ps. 51:10).
14. Kindness. "Lord, may my children always try to be kind to each other and to everyone else" (I Thess. 6:18-19).
15. Generosity. "Grant that my children may be generous and willing to share, and so lay up treasure for themselves as a firm foundation for the coming age" (1 Tim. 6:18-19).
16. Peace-loving. "Father, let my children make every effort to do what leads to peace" (Rom. 14:19).
17. Joy. "May my children be filled with the joy given by the Holy Spirit" (1 Thess. 1:6).
18. Perseverance (not give up). "Lord, teach my children perseverance in all they do, help them especially to run with perseverance the race marked out for them" (Heb 12:1).
19. Humility. "God, please develop in my children gentleness and true humility toward all people" (Titus 3:2).
20. Compassion. "Lord, please clothe my children with compassion, may they truly care for people" (Col. 3:12).
21. Responsible. "God, help my children be responsible, may they learn what they should do and do it" (Gal 6:5).
22. Contentment. "Father, teach my children the secret of being content in any and every situation, through Jesus who gives them strength" (Phil. 4:12-13).
23. Faith. "I pray that faith will find root and grow in my children's hearts, that they live a life of faith, so they please their Father" (Lk. 17:5-6, Heb. 11:1-40).
24. Servant's Heart. "God, please help my children develop servants' hearts, that they serve with their whole heart, as they serve the Lord and not men" (Eph. 6:7).
25. Hope. "May the God of hope grant that my children overflow with hope by the Holy Spirit's power" (Rom. 15:13).
26. Willingness and Ability to Work. "Teach my children, Lord, to value work and to work hard and cheerfully, as working for the Lord, not for men" (Col. 3:23).
27. Passion for God. "Lord, please give my children a soul that follows You close ('follows hard after You'--KJV), a heart that clings passionately to you" (Ps. 63:8).
28. Self-discipline. "Father, I pray my children be disciplined and do what is right and just and fair" (Prov. 1:3).
29. Pray. "Grant, Lord, that my children's lives be consistent in prayer, that they learn to pray in the Spirit on all occasions with all kinds of prayers and requests" (Eph 6:18).
30. Thankful. "Help my children live lives that are always overflowing with thankfulness and always giving thanks to God the Father for everything, in the Name of our Lord Jesus Christ" (Eph. 5:20, Col. 2:7).
31. Heart for Missions. "Lord, please help my children develop a desire to see Your glory, Your Name, Your marvelous deeds declared among the nations, (especially the Deaf Nation all over the world" (Ps. 96:3).
I encourage you to please feel free to PRINT

31 Powerful Ways to PRAY for you children. Keep them with your Bible and Prayer list.

If you have comments, thoughts or questions for me, I'd love to receive an E-mail from you. God bless you and your precious family,

To send me an E-mail click below

*Adapted from "31 Biblical Virtues to Pray for Your Kids" by Bob Hostetler.

He's author of the award winning Don't Check Your Brains at the Door (co-authored with Josh McDowell) and They Call Me A.W.O.L.

Website Copyright 1999-2010 Deaf Ministries Worldwide