Hi Friend:
For the next several months we will be exploring the "riches" found in Psalm 23. I pray that God will use this devotional to be an eye-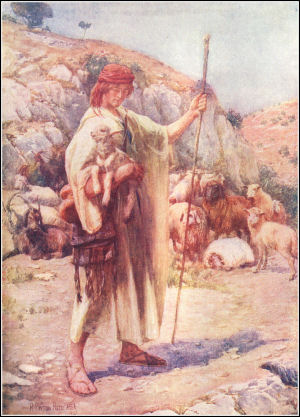 opening/insightful blessing to you!
BACKGROUND:
AUTHOR: King David. We learn from 1 Samuel 16:11 that as a young boy, David grew up watching and caring for sheep. He was a shepherd boy. However, when David wrote Psalm 23 he was much older. He is looking back over his past life.
As we begin this series, let us think about some of the characteristics of SHEEP:
Sheep in the Old Testament are:
helpless
dependent
tend to stray (Isaiah 53:6)
Sheep need
to be lead
to be guided
a place to "rest"
Shepherd: The Old Testament word is Ra ' ah and means:
to feed
one who leads into the pastures to eat, drink and rest
to lead
long ago, a ruler was often referred to as a "shepherd of his people"
YAHEH is the Hebrew Word of God's expression to us:

"I want to know you."

Jesus says in John 10:27, "My sheep listen to My voice (My Word).

I know them, and they know Me." (NCV)

Jesus compares people to sheep.

Jesus says His people listen to Him and know Him.

We listen, not with our ears,

but with our heart. Listening takes time.

As we listen to Him with our heart, we get to know Him,

and we learn to trust Him.
Sheep's relationship with shepherd:
A shepherd dedicates his whole life to caring for and protecting his precious sheep. The shepherd knows each sheep by name. He calls out in the fields to his flock and they recognize his voice. It is a unique relationship. And that is the kind of relationship Jesus wants with us (His sheep).
Psalm 23:1b, ". . . shall not want" (lacking nothing). NCV reads, "I have everything I need."
To be content.
To be satisfied.
To have deep joy.
Jesus is The Good Shepherd (read John 10:1-19). An earthly shepherd's job is to care for his sheep, and he gives his whole life for his sheep. Jesus, The Good Shepherd, laid down His life (died) on the cross so we can live a new life, an abundant life.

John the Baptist said, in 1 John 1:29,

"Behold (pointing to Jesus) the Lamb of God

who takes away the sins of the world."

Would you like to ask Jesus--The Good Shepherd--to be the "Shepherd" of your life? Each of us has gone our own way, we are lost, we have gone astray and we need Jesus. If you haven't already, I encourage you to invite Jesus to come into your heart/life.
If you have questions send an email
CLICK HERE

PRAYER: Dear Jesus, thank You for being The Good Sheperd who died--gave up Your life--for me, so I can experience Your joy as I say with the Psalmist David, "The Lord is my shepherd, I have everything I need." In Jesus Name, AMEN.
Diane Musil is a special friend of this ministry. Here is a picture of Diane with "Pup". I asked Diane how long she has been a Christian, and she responded, "I was saved 7/7/1977. Diane explains, "That is when I first became saved and accepted Jesus Christ as my Savior and Lord!!!!" She is a women of faith and a powerful prayer warrior. Diane loves the Lord with all of her heart and has a deep abiding relationship with Him, born out of life's struggles.

Since the beginning of this ministry, Diane has been an encouragement to Rhonda and me. We asked Diane if she would be willing to write devotionals, which we could add to this website, so that other people would be encouraged too. Diane graciously responded, "Yes,".

Diane is Deaf and legally blind, caused by being born almost three months premature. Many years ago, Diane was visiting at the Retreat Center here and preparing to share in chapel. Diane was in the kitchen, and I happened to walk in on her as she was reading her Bible and praying. Diane had her Bible within three inches of her eyes as she diligently, slowly, was reading the Word of God. I backed out of the kitchen. That image of Diane reading her Bible has spurred me on to be faithful in reading the precious Word of God. Rhonda and I pray that God will encourage you as you read Diane's devotional below. Diane has lived in the Chicago area her entire life.

May God encourage and bless you,

Gary