June 2008
PSALM 23:4

"Yea, though I walk through the valley of the shadow of death, I will fear no evil, for You are with me. Your rod and Your staff they comfort me." (New King James Version)

"Even though I walk through the valley of the shadow of death, I will fear no evil, for you are with me; your rod and your staff, they comfort me." (New Inernational Version)
Hi Friend:
We have been exploring the "riches" found in Psalm 23, and will continue to do so for the next few months. Last month the focus was on the words "Yea, though I walk through the valley of the shadow of death". This month we will look at the rest of that verse, "I will fear no evil , for You are with me; Your rod and Your staff they comfort me."
I encourage you to read the past devotionals on Psalm 23. Scroll down to "Archives" to read. I pray that God will use this devotional to be an eye-opening, insightful blessing to you!
"I WILL FEAR NO EVIL, FOR YOU ARE WITH ME;
YOUR ROD AND YOUR STAFF, THEY COMFORT ME."
Psalm 23 starts, "The Lord is my shepherd I shall not want." King David wrote this Psalm. He had grown up tending sheep and lambs. In the same way David took care of his sheep, he made the connection that the Lord, "my shepherd" takes care of me.
I did some research and learned these interesting facts: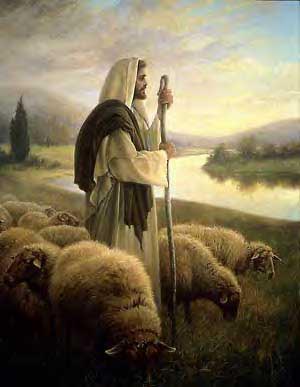 BIBLE WORDS: The words "sheep", "lamb" and "shepherd" appear over 600 times in the Bible.
ROD: The shepherd's rod is about 2' long. It can be used as a club to defend the sheep against wild animals that would come to kill, steal and destroy his sheep. The rod is a branch of a tree that the shepherd shapes and makes smooth; it becomes a ready weapon against any attacker.
STAFF: The shepherd's staff (crook/hooked long stick) is very helpful for the shepherd to use to pull away branches or thorn bushes so that the sheep can safely walk on the path as the shepherd leads. And very importantly the shepherd can use his staff to pull out little lambs or sheep who have wondered off the path to a hard to reach place, or to rescue lambs and sheep who have fallen into a hole. The sheep do notice the sheperd's power and strength and this gives "comfort" to the sheep.
THY ROD AND STAFF COMFORT ME: The "ROD" is the Word of God. It is powerful, it strengthens us, it rescues us from all kinds of danger. The "STAFF" is the Holy Spirit who guides us along the path that The Good Shepherd leads us on. The Holy Spirit comforts us and draws us closer to the Son of God, Jesus Christ. It is in His presence that we experience peace and joy.
Whatever you are going through right now, you are not alone. Say with the Psalmist:
"I WILL FEAR NO EVIL, FOR YOU ARE WITH ME;
YOUR ROD AND YOUR STAFF, THEY COMFORT ME."
My Lord Jesus has comforted me all through these years that I have followed Him. There are times when the Holy Spirit has comforted me, Himself, without human aid. There are other times when He has used people to say or do just the right thing, which brings comfort and encouragement to me in my time of need and trouble.
Consider these verses found in 2 Corinthians 1:3-4: "We give thanks to the God and Father of our Lord Jesus Christ. He is our Father Who shows us lovingkindness (mercy) and our God Who gives us comfort. He gives us comfort in all our troubles. Then we can comfort other people who have the same troubles. We give the same kind of comfort God gives us."
God comforts us in all our troubles. Truly He has been faithful to me. Let us go forth and comfort other people who are going through a hard time. We can show them the comfort that God has already given to us. We just may be the answer to someone elses prayers.
"Come Holy Spirit" by Bryan Duncan

Most of us are familar with the chorus to this song, however,

I have included the three verses. May they minister to you.

CHORUS: Come Holy Spirit, I need You now.

Come, Sweet Spirit, I pray.

Come in Your strength and Your power.

Come in Your own gentle way.

Come as a wisdom to children.

Come as new sight to the blind.

Come, Lord, as strength to my weakness.

Take me soul, body and mind.

Come as a rest to the weary.

Come as a balm to the sore.

Come as a dew to my dryness.

Fill me with joy evermore.

Come like a spring in the desert.

Come to the withered of soul.

O, let Your sweet healing power.

Touch me and make me whole.

MY PRAYER: Heavenly Father, Holy Spirit, Son of God--we need You. We need you every minute of everyday. Blessed are those who recognize their need for You. May you bless us, fill us, use us this day for Your honor and glory. AMEN.
If you have questions send an email
CLICK HERE