This Month's Devotional
THANKSGIVING - GIVE THANKS!
BIBLE VERSE: 2 Corinthians 9:15, "Thanks be to God for His INDESCRIBABLE GIFT!"
GIVE THANKS
GOD IS:
G - Great (Psalm 57:10)

I - Immanuel (Matthew 1:23)

V - Victorious (Psalm 20:5)

E - Everlasting (Jeremiah 31:3)

T - Truth (John 14:6)

H - Healer (Isaiah 53:5)

A - Alpha and Omega (Revelation 1:8)

N - Never failing (Amos 5:24)

K - King of kings (Revelation 17:14)

S - Savior (Luke 2:11)
We all have our "GIVE THANKS LIST" because we do have countless blessings. But there is one GIFT that is greater than any other GIFT. It is the one GIFT we need to focus on everyday. THE GIFT is JESUS CHRIST and Him alone!
In Matthew 26:27, "Jesus took THE CUP and GAVE THANKS." That was the first Lord's Supper".
Why? Why would Jesus GIVE THANKS?
Think about what THE CUP would mean in regards to Jesus? HE KNEW WHAT IT MEANT! THE CUP represented His own precious blood that He would give for the forgiveness of our sins, the sins of the "lost sheep". THE CUP represented His cruel death on the cross. And yet, Jesus did GIVE THANKS.
Can you imagine--Jesus giving thanks for His own death on the cross! Jesus took the time to give thanks.
THIS THANKSGIVING SEASON
LET'S GIVE THANKS TO GOD
FOR HIS INDESCRIBABLE GIFT--JESUS!
SONG
THANK YOU LORD FOR SAVING MY SOUL.
THANK YOU LORD FOR MAKING ME WHOLE.
THANK YOU LORD FOR GIVING TO ME,
THY GREAT SALVATION SO RICH AND FREE!
PRAYER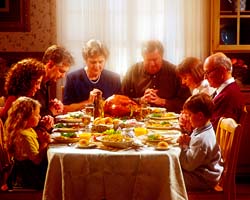 Dear Father in Heaven, We, Christian Believers, have so much to be thankful for. Right now, we do take notice, we do remember THE INDESCRIBABLE GIFT--JESUS--who died on the cross and rose again so that we can have real life, which is in JESUS CHRIST ALONE! In Jesus Name. Amen.