Diane Musil is a special friend of this ministry. Here is a picture of Diane with "Pup". I asked Diane how long she has been a Christian, and she responded, "I was saved 7/7/1977. Diane explains, "That is when I first became saved and accepted Jesus Christ as my Savior and Lord!!!!" She is a women of faith and a powerful prayer warrior. Diane loves the Lord with all of her heart and has a deep abiding relationship with Him, born out of life's struggles.

Since the beginning of this ministry, Diane has been an encouragement to Rhonda and me. Several months ago, we asked Diane if she would be willing to write devotionals, which we could add to this website, so that other people would be encouraged too. Diane graciously responded, "Yes,".

Diane is Deaf and legally blind, caused by being born almost three months premature. Many years ago, Diane was visiting at the Retreat Center here and preparing to share in chapel. Diane was in the kitchen and I happened to walk in on her as she was reading her Bible and praying. Diane had her Bible within three inches of her eyes as she diligently, slowly, was reading the Word of God. I backed out of the kitchen. That image of Diane reading her Bible has spurred me on to be faithful in reading the precious Word of God. Rhonda and I pray that God will encourage you as you read Diane's devotional below. Diane has lived in the Chicago area her entire life.

May God encourage and bless you,

Gary
This Month's Devotional - "THE HEART OF A PILGRIM"
BIBLE VERSE
1 PETER 2: 11 (New Life Version)

"Dear Friends, your real home is not here on earth. You are a stranger here. I ask you to keep away from all the sinful desires of the flesh. These things fight to get a hold of your soul."

The New King James Version uses the word "pilgrims"instead of the word "stranger".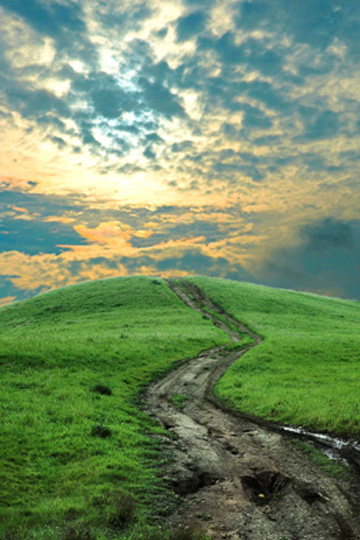 What is a pilgrim? Most people think of Thanksgiving when they see the word pilgrim. Below are two other meanings:
1. A foreigner who journeys to a foreign land.
2. A traveler who travels to a holy place.
Christians are like pilgrims. We are strangers on earth. Earth is not our home; we are just passing through as we journey and travel to our real home--HEAVEN, THE HOLY PLACE.
TRUE STORY
Have you ever gone on a trip, far away from home? Did you miss home? Did you feel homesick? February 5, 1987 I flew on a very big airplane from America to Norway. The flight took so long I did not arrive until the next day. Norway felt different. I was a stranger in a strange land. The first night there, I was already "home sick" for America. America is where I was born and have lived all my life. After ten days in Oslo, Norway I was ready to get back to my home, my room and my own bed.
Being a pilgrim for God is a life-long process of letting go of earth and everything in it, and walking closer with God. It is amazing how many of us Christians hold so tightly to our homes, apartments and things. We talk of our new house, our new car, our new computer. It is easy for our mind to be so focused on earthly things that we find it hard to focus on heaven. The things of this world pull us down and lead us away from having the HEART OF A PILGRIM. It is time to let go of earth, live holy lives as we walk with Jesus, and go forward on our journey to the HOLY PLACE.
Our attitude should be the same as the Apostle Paul's in Philippians 3:20 (New Century Version),

" But our homeland is in heaven, and we are waiting for our Savior, the Lord Jesus Christ, to come from heaven."
---
TO LONG FOR CHRIST IS TO LONG FOR HEAVEN
TO LONG FOR HEAVEN IS TO LONG FOR CHRIST
---

SONG

"Jesus, Lead Thou me On"
by Christian Gregor (1723-1897) *
translated by Jane Borthwick (1813-1897)
Jesus, lead Thou me on,
Till our rest is won;
Heavenly Leader (Jesus) still direct us,
Still support, control, protect us,
Till we safely stand in our fatherland (HEAVEN).
* About the author: Christian Gregor was a composer and organist and compiled one of the principal hymnbooks of the Renewed Moravian Church in 1778. It contained 1750 hymns, over 300 of which were composed or arranged by Gregor, and was used for a century by congregations in Germany and elsewhere. Many of Gregor's hymns are found in Moravian hymnals today. He also composed the well-known anthem Hosianna (1765) and a book of four-voice chorale settings.
Christian Gregor was born in Dirsdorf, Silesia (now Przerzeczyn Zdrój, Poland), Gregor was orphaned at the age of nine when his mother died, and subsequently raised by the Pietist Count Christian Karl Ludwig von Pfeil. He learned to play organ in his youth, and in 1742 joined the Moravian Church in Herrnhut, Germany, serving as an organist, teacher, spiritual leader, and administrator. His travels on behalf of the church included a two-year visit to Moravian settlements in the United States between 1771-1772. Gregor was ordained minister in 1756 and consecrated bishop in 1789.
---
PRAYER
Dear Jesus:
You are calling each of us to be a pilgrim for God. We are just traveling through this old earth. Holy Spirit, put within us a new spark, an increased hunger for HEAVEN, our HOLY HOME. Help us to let go of this world and everything in it for, surely, we were born with nothing; and when we die we take nothing with us. We leave this earth with empty hands. In Jesus Name I pray. AMEN.