Ken Cliff Lanes History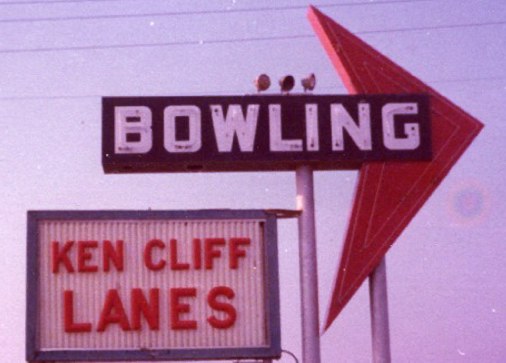 Ken-Cliff Lanes opened during the summer of 1958 in the building which had previously housed
Johnson's Fine Furniture, located at 520 North Commerce in Ardmore, OK. Co-owners Kenneth
and Clifford Johnson worked closely with AMF to create a first-class 16 lane center. They operated
Ken-Cliff Lanes until 1966. At that time Jim & Jackie Meeks leased the business and operated the center
until July 31, 1976, known to some of us as 'Black Saturday'. Demolition of the building and equipment
began shortly after August 1, 1976. It was a tragic end to a thriving center and a great loss to area bowlers.

Brothers Kenneth and Clifford Johnson at the grill counter - circa 1958.

Our thanks to the Johnson family and Jim Meeks for the information & photos they've shared.
Their enthusiasm and support is deeply appreciated.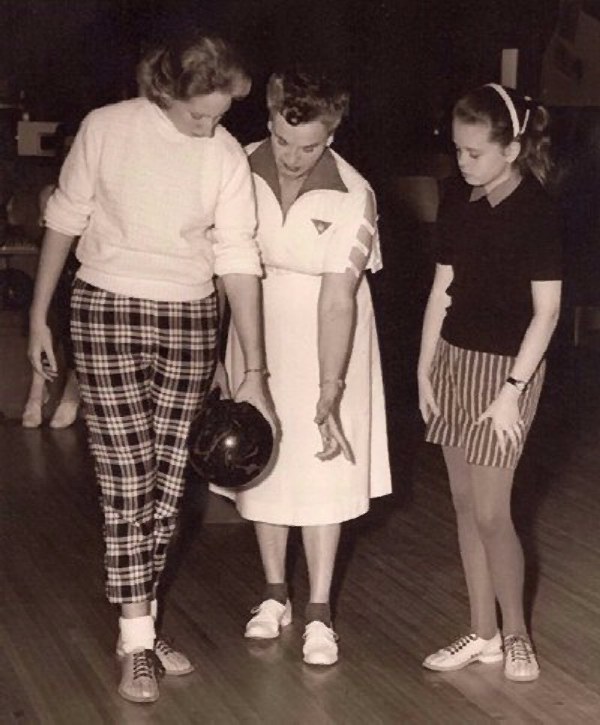 Karen & Jean, daughters of Kenneth & Clifford, having a
lesson with guest pro bowler Esther Woods, circa 1959
Photo courtesy of Karen (Johnson) Harrington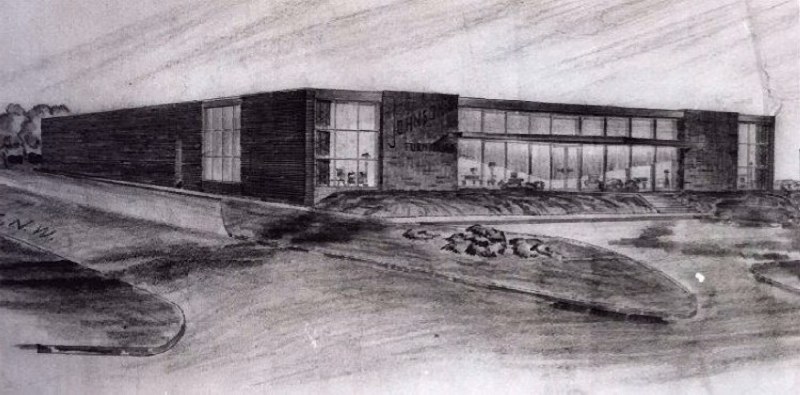 Architectural drawing of the future home of Johnson's Fine Furniture - 1950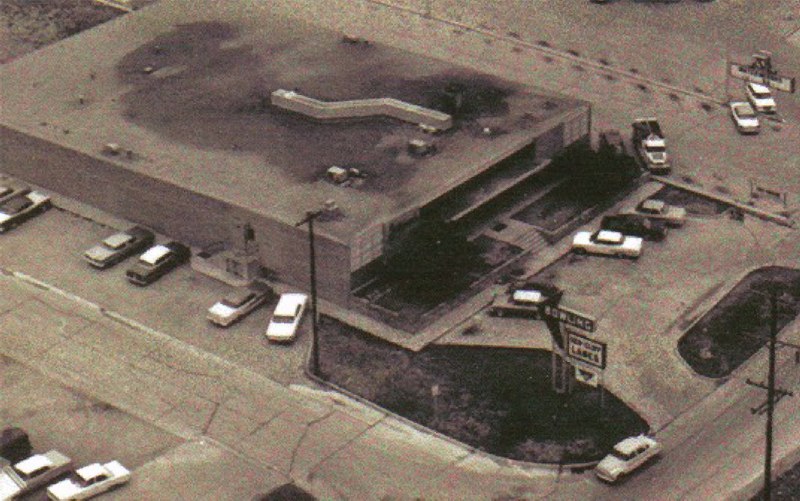 Aerial view of Ken-Cliff Lanes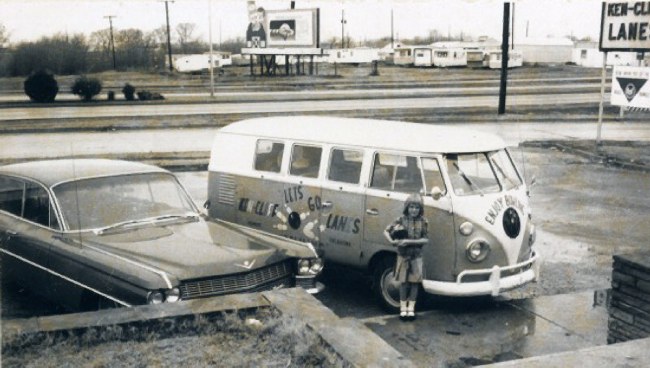 Jill and the Ken-Cliff Volkswagen van, circa 1967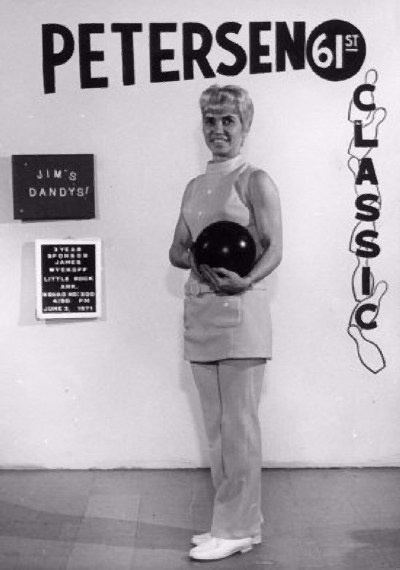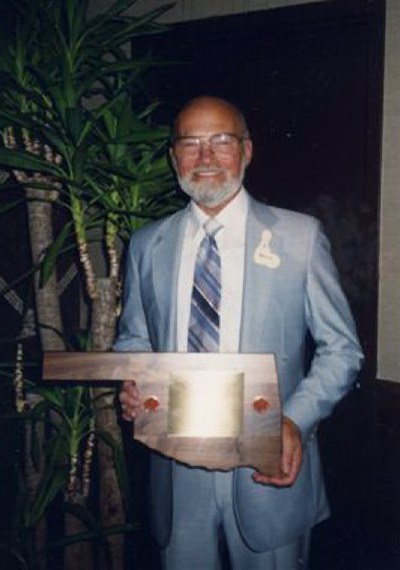 Jim and Jackie Meeks each made their mark in the world of bowling. Jackie's career high game
was 279, and she broke the all-events record in Oklahoma previously held by professional bowlers.

Jim set Tulsa bowling on fire, including 2 sanctioned 300 games in one season, Oklahoma's
first sanctioned men's 800 series [822] in 1963, and a 4-game score of 1,055, records he held for
many years. Jim was inducted to the Oklahoma State Bowling Association Hall of Fame in 1990.

Jackie & Jim had a long history in bowling, first as managers of Northland Bowl in Tulsa; later moving
to Alabama as partners in a center; and finally as owners of Ken-Cliff Lanes in Ardmore, OK. Bowling
was a family affair for the Meeks, including their daughters, Jimalyn & Jill; and Jackie's mom, Grace.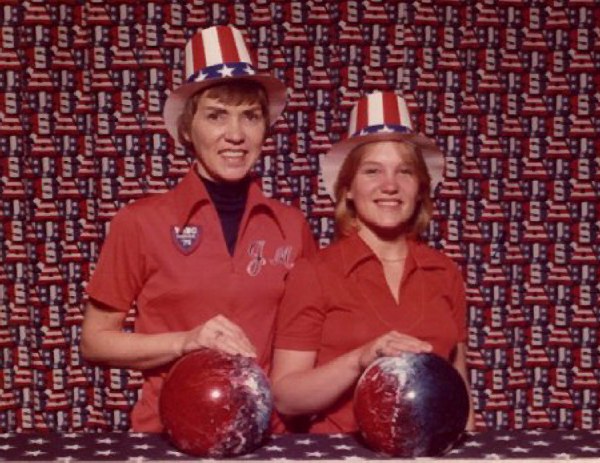 Jackie & Jimalyn - 1976 WIBC International Championships - Denver, CO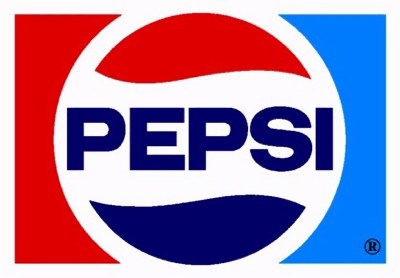 Ken-Cliff Lanes was home to the annual Pepsi Invitational,
one of the premiere tournaments in the southwest.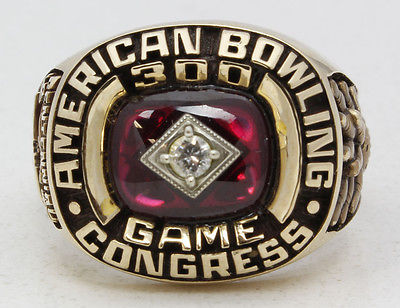 Ken-Cliff Lanes 300 Games

Jay Garner - Friday, February 27, 1959 - Lanes 5 & 6
$5,000 House Award for 1st 300

Orville Whiteley - Ragtime Doubles - August 26, 1962
Roy Clark - Ragtime Doubles - August 26, 1962
Jim Hammer - Pepsi Tournament - August 30, 1968
Charlie Ellis - Pepsi Tournament - June 1, 1975
Curtis Truelove - Tuesday Scratch League - May 26, 1976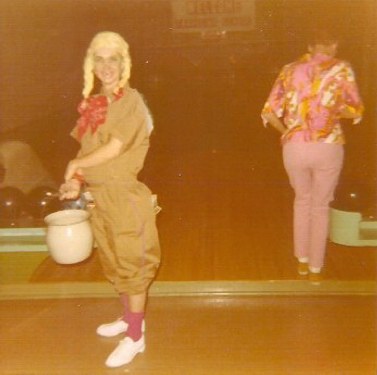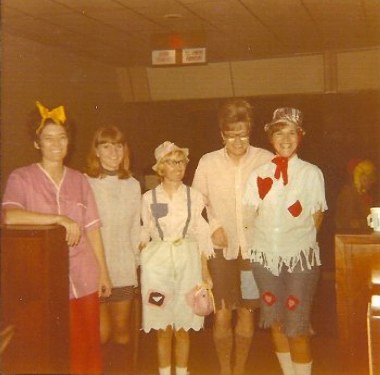 Thursday night Halloween Bowling Party - 1968. Jackie, dressed in her finest for the occasion; and (left to right)
Barbara Porter, Bobbie Laws, Wilma Parnell, Jo Garrison and Peggy Denison joined in the fun.
Photos courtesy of Wilma Parnell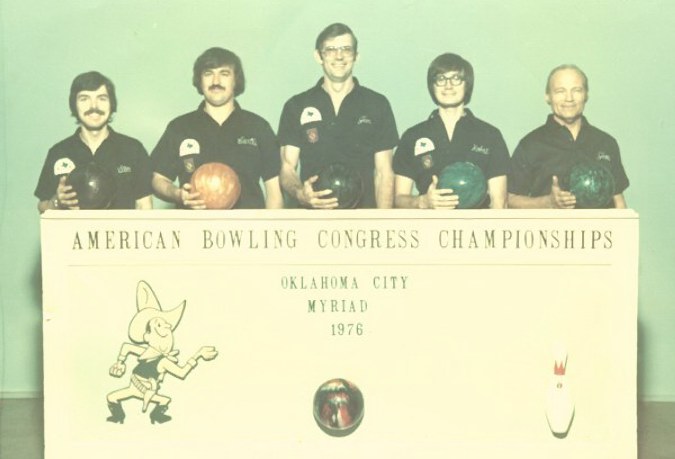 Ken-Cliff Lanes was well represented at the 1976 ABC Championships by team members
Glen Armstrong, Curtis Truelove, Jim Chesser, Robert Gill and Jim Meeks.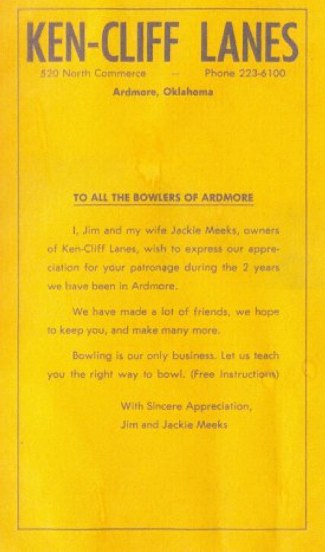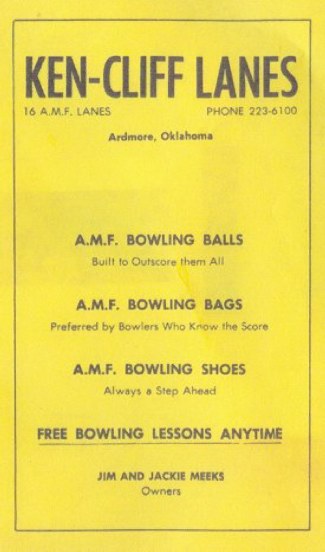 Average book ads from the late 1960s
Images courtesy of Glenn Conway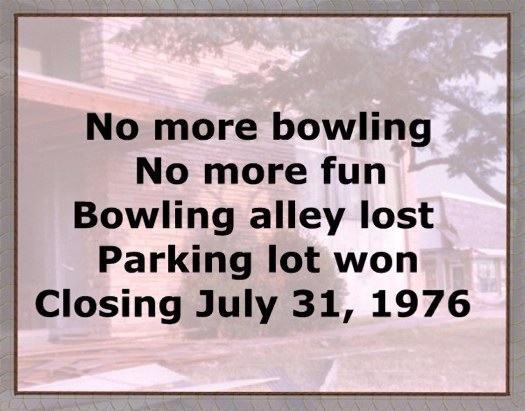 After exhausting all efforts to reason with the landlord and save the center, Jim
made a public announcement by hanging a sign over the lanes with this rhyme.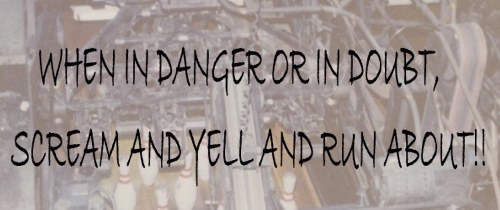 Mechanics Robert Gill and John Southers remembered this message,
which was painted on the wall between Lanes 8 and 9.

Another message, on the inside of the back walk-in door, read:
BATMAN WAS HERE...I THINK!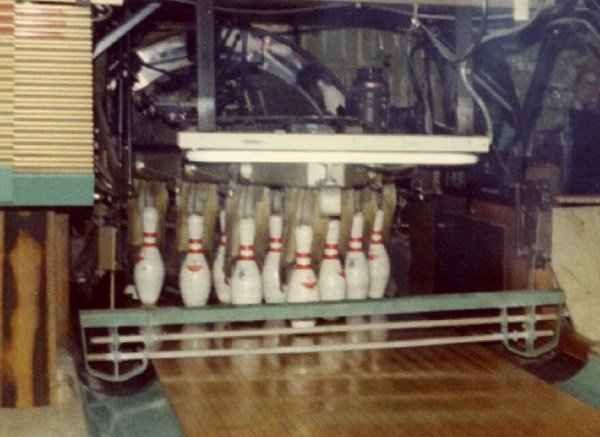 Lane 8 spotting pins for the last time - July 31, 1976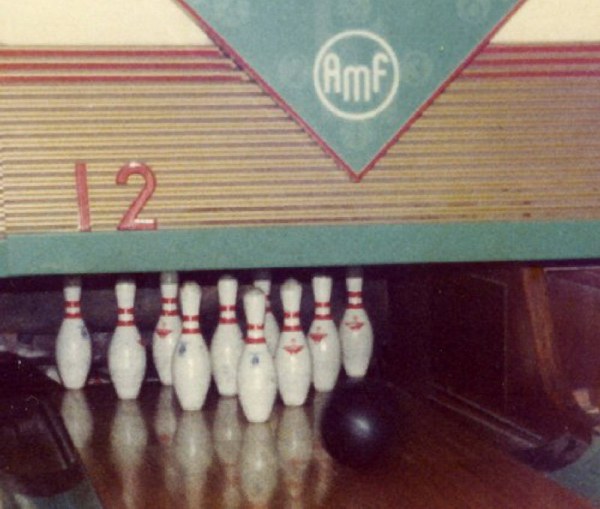 One of the last shots rolled at Ken-Cliff - July 31, 1976

Although the neon sign is gone, and all that's left of the original center are many fond
memories and a few mementos, Ken-Cliff Lanes has never been forgotten.

Fast forward to 2009...

On January 21, 2010 we announced construction had started for a new
Ken-Cliff Lanes; a 4-lane classic retro center equipped with AMF 82-30
pinspotters, Streamlane furnishings, and a few surprises!

We broke ground December 22, 2009, and opened for business February 11, 2011.
It took nearly 14 months to construct the building & overhaul the pinspotters, along with
refurbishing the masking units, ball returns and all the other period AMF equipment.
To the extent possible and/or practical, our goal was to recreate a 1960's AMF bowling
alley, based largely on the original Ken-Cliff Lanes. We hope you enjoy the end result!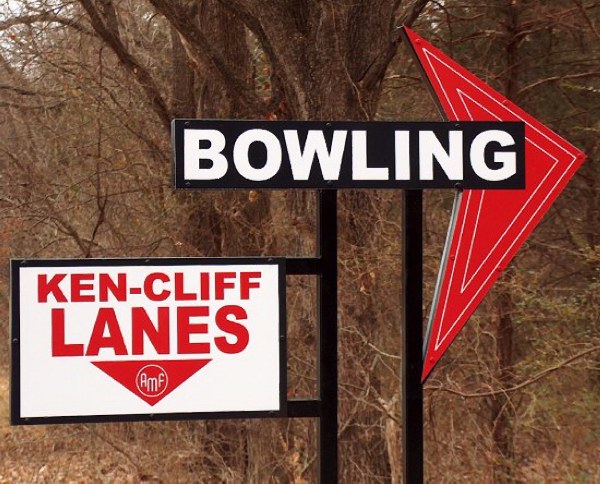 Our new sign, built to scale based on the original neon sign.