---

NEW! SPECIAL UPDATE: "Everlasting Word", "Beautiful Hands", "Forever Friends"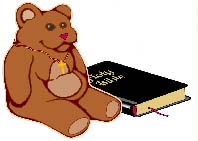 May 2009
Happy Mother's Day
Here I am with my arms around my precious sons, Rex (on my left) and Luke

"I have no greater joy than to hear my children

are walking in the truth." 3 John 1:4
Dear Moms and Dads (Dads next month I'll focus on you):
The most awesome "job" we will ever have is being a Mom, in spite of what the world says. No job can compete with the responsibility of shaping and molding a new human being. Each child is fearfully and wonderfully made (Psalm 139). What a privilege it is to be a Mom. I love it! (I love being a Grandma too!) Abraham Lincoln said, "All that I am or ever hope to be, I owe to my Mother." WOW, what a statement. Moms, we're pretty important!
I've been a Mom for 33 years. I've learned that our "job" as a Mom doesn't stop when our children grow up and leave home. We will always be a Mom. Sure, our relationships with our sons and daughters will be different (perhaps even better!) and we can have a positive influence on their lives. One way is by praying for them. I've said before, "When my boys were little boys, they had little problems; but now that they are big boys, they face big problems. They need my prayers now more than ever.
Not long ago I was praying for my sons, tears streaming down my face; I just felt burdened for them. As I prayed, a story from the Bible came to my mind: the story found in Matthew 20:20-28 about the mother of James and John, the sons of Zebedee. You may remember the story. James' and John's mother kneels before Jesus and asks a favor, "In your Kingdom, please let my two sons sit in places of honor next to you, one on your right and the other on your left." The other ten disciples were listening to this conversation and they were indignant. That has always been my response, too, totally judgemental. How dare that mother; it's one thing to think that thought, quite another to actually ask it. The audacity of that mother. How full of pride she is. But when I was praying for my sons, I think I "caught" the heart of James' and John's mother. Perhaps it was not out of arrogance that she made her request, maybe it was out of love. She just wanted the best for her sons. She wanted them to be in a place of honor, not of shame, not of dishonor. I found myself praying, "Oh, Lord, I want Your best for my sons. Whatever your will for Rex and Luke, may they walk in it. May they fulfill the purpose that You have planned for their lives. May You use their gifts and talents for Your honor and Your glory. And when they enter eternity, may they hear Your words of welcome, "Well done, My good and faithful servant, Rex. Well done, My good and faithful servant, Luke."
Moms, our home is our little kingdom. We set the tone for our home, our family. If you are like me, at times it can seem overwhelming. But the good news is that we don't have to be a Mom in our own strength, or in our own wisdom. I would surely fall if it depended on my strength and my wisdom. Jesus has promised to never leave us or forsake us. In the book of James we read that we can ask for wisdom, and God will liberally pour out wisdom upon us. This Mom needs His wisdom each day.
Moms, again, I just want to emphasize, you are very important. You're pulled in so many different directions today. The stress can be unbelievable, but remember that nothing is more important than the investment of time in the life of your child. God's Word tells us that when a mother does this, her children rise up and call her blessed and her husband praises her saying, "Many women have done excellently, but you surpass them all." Yes, it's not always easy being a mother, but oh, there's no greater blessing in the world than being a Mom!
As you shape and mold the little guy(s) or the little gal(s) the Lord has blessed you with, may you realize that your life and your prayers do make a difference in the lives of your children. And be encouraged by James 5:16b, "The prayer of a righteous person is powerful and effective." I hope the Precious Prayer Calendar* below is a helpful tool as you pray scriptures over your children.
Praying with you!
In Christian Love,
Rhonda
RETURN TO WEB PAGE Precious in HIS Sight

* Scripture Prayer Calendar Deleted