"RESTORED"

The Salvation Testimony of Gary and Rhonda Barrett

as told by Rhonda
"Get your stuff and get out!" Gary yelled as he threw open the trailer doors.
"You better believe it!" I screamed back.
But it was useless; I couldn't sort out my belongings from his. And where would I go anyway?
Closing the trailer doors Gary said, "When we get to Washington State, we'll file for divorce."
I cried most of that night as I lay on the floor cuddled next to our two-year-old son, I thought back to the day I had met Gary. We were nineteen years old. When I walked into his office for a job interview, he was talking on the phone, but he was holding the receiver between his mouth and his chest. I realized he was using a hearing aid strapped to a carrier under his shirt. I was hired. Within the year Gary had his own hearing aid business, and we were married. By the time we were 23 we had our dream home, two Cadillacs, money for almost anything we wanted, and our first born son. We had everything--or so it seemed. From the start our marriage was far from ideal. We both wanted our own ways and found ourselves in a clash of wills.
Neither our relationship nor our possessions made us happy. We searched constantly for something to fill the void. Gary sought fulfillment through financial gain; and we both tried to stifle our emptiness with parties and drinking.
Gary eventually sold his company and accepted a promising opportunity that required us to move to Washington State. We sold most of our belongings and prepared to leave San Diego, California, our city of dreams. But now with the talk of divorce, my dreams were crashing in around me.
The next morning in silence we began the long drive to Bellingham, Washington.
Gary finally spoke, "Rhonda, I know it's probably too late, but I think we should try to save our marriage for our son's sake. When I was young, my mom would go out drinking and leave me home alone. I'd be scared. Mostly I stayed up late watching television. When Billy Graham was on, I would watch him, and fear would leave me. I remember Billy Graham always said, 'Go to church this Sunday.' Rhonda, maybe we should try church when we get to Bellingham."
We believed in God but had never made a personal commitment to Him. In Bellingham we tried different churches and decided they weren't for us.
However, the slower pace of life did agree with us. We shelved the idea of divorce.
Within a few months we met a nice couple. God really has a sense of humor--it was ironic that our new friends didn't have many possessions, and yet, they had joy. How could that be? They talked about Jesus as though they really knew Him, as if He was their friend. When they invited us to attend their church, we accepted.
The pastor ended his message with an invitation: "If you want to have a new life come to Jesus. Ask Jesus to forgive you of your sins. He will not only give you a new life now but everlasting life throughout eternity." Gary and I went to the altar together and prayed to receive this new life. As we grew in the Lord and followed biblical principles, our marriage was strengthened.
One Sunday morning in church a person in the back of the sanctuary was asked to pray. Unable to hear or see him, Gary asked me to move my lips so he could lip read. As I did, a heaviness came upon me, and the Lord seemed to be asking me, "How will Deaf people hear about Me?"
From that moment I desired to learn sign language. I enrolled in a sign language course and met with a friend daily to practice. We ended up moving o Seattle where Gary became the manager of a hearing aid office. Also I met a Deaf woman and as we communicated, my signing improved. Gary encouraged me but wanted no part of it for himself.
Two years after accepting Christ, Gary came home with devastating news: "I can't hear, Rhonda. I was at work, and suddenly everything went silent. I always had these nagging thoughts that someday I'd be deaf, but not like this. Not now in 1980. I'm only 27."
Doctors could do nothing. Gary questioned why it had happened; then the answer began to unfold. "God performed a miracle," Gary said, "I did not have my hearing restored, but God gave me a burden and a love for Deaf people and a call to Deaf ministry."
So much has happened since Gary became deaf. It is amazing how God can take such a devastating situation and turn it around for good. God opened the door for Gary to attend Bible College. He graduated with a degree in Deaf Culture Ministries. and became a licensed minister. We have pastored two Deaf churches and continue to serve together in Deaf ministry. In 1989 we moved to Oklahoma and with God's help established Deaf Ministries Worldwide with a vision and burden to reach the 250 million Deaf people around the world with the same message we heard, oh so many years ago, in 1978, "If you want to have a new life, come to Jesus. Ask Jesus to forgive you of your sins."
We would have to write a book to be able to include the many awesome things that God has done through the years. Our Lord Jesus is worthy to be forever praised!
---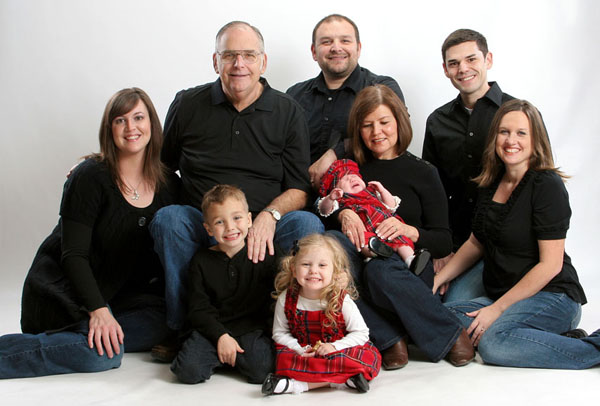 Fall of 1978, on the same day, Rhonda and I became Christians. It truly was a miracle.
If not for God we would not be married today, and we would not have our beautiful family pictured here December 2009 (Left to right: Lanie, Gary, Rex, Rhonda, Luke,m and Angela. Grandchilren front: Beaux, Isabella, and Elizabeth. Beaux is Rex and Lanie's son. Isabella and Elizabeth are Luke and Angela's girls.)
In the past thirty years we have shared our salvation testimony only a dozen times or so. Our past life is not something that we are proud of, and we tend to focus more on what God has done since following Him. However, Rhonda and I both have sensed God speaking to our hearts about sharing our salvation testimony more often. It is our prayer that God will use our testimony above to change people's lives and draw them to Him.
Our testimony was originally published in the Billy Graham magazine "Decision" back in 1989 and then later the Assemblies of God published it in their magazine "Pentecostal Evangel" in 1991. The above are excerpts from those two articles.
Rhonda and I humbly ask God to use our past sinful life of rebellion, pride, and greed to, indeed, change people's lives for His honor and His glory. For it is only by God's mercy and grace that we are--not only saved, but kept, still married, with grown children serving the Lord, and that we, too, continue serving the Lord together to this day.
To God be the glory for the great things He has done now and forever more.
Gary
To send me an E-mail click below

God bless you as you navigate throughout the Deaf Ministries Worldwide website.