March 2010
Dear Friend:

I've been excited about this series on "The Lord's Prayer".

This month is the third devotional. If you've not read the first two devotionals, I encourage you to do so. You can scroll down to the ARCHIVES below.

May you be drawn to your knees in prayer and worship as you meditate on these 56 words in the King James Version. The Lord's prayer has had a powerful effect on our history heritage as well as our Christian heritage.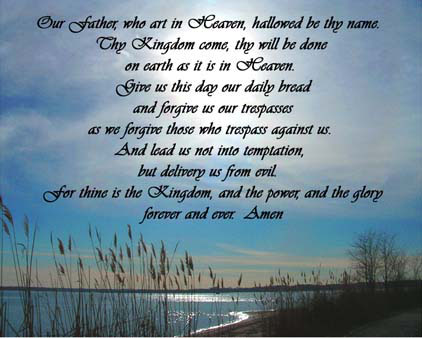 Previously, I've shared five words that summarize The Lord's Prayer. Each of these five words begin with the letter "P".

This month I'm focusing on the "P" word

PRIORITIES

We should be following God's ways in all things, in every area of our life.

His prioritities should be our priorities.

WHAT IS AT THE TOP OF YOUR PRIORITIES?

GOALS: Your goals--are they God's goals?

MIND: Your mind--is what you think about what's on God's mind?

PLANS: Your plans--are they God's plans?

What is first in your life? Is it your job, marriage, family, boyfriend, girlfriend, TV, or _________ (what does the Holy Spirit bring to your mind, fill in the blank)?

Where does God's Word fit into your life?

What about prayer and the things of God? Are they a priority?

In The Lord's Prayer we read these powerful words Jesus prayed,

"Your Kingdom come, Your will be done on earth as it is in heaven."

Matthew 6:10 (NIV)

Jesus, Son of God, while in Heaven or living here on Earth, always kept His priorities right. He always followed and lived God's priorities. We see what was at the top of Jesus' priorities--it was spending time with "Our Father". Again and again in the scriptures we read of Jesus' prayer habits.

Jesus would often get up early in the morning, while it was still dark, to spend time in prayer and fellowship with His Heavenly Father (see Mark 1:35).

"Later on, after John (the Baptist) was arrested,

Jesus went into Galilee, where He preached God's Good News.

'The time promised by God has come at last!"

He announced. "The Kingdom of God is near!

Repent of your sins and believe the Good News!'"

Mark 1:14-15 (NLT)

The Kingdom of God is near, it is present now. If there is something in your life that has taken the place of God and His priorities in your life, now is the time to repent and believe the Good News. It is a good day to surrender and say, "Father God, your Kingom come in my life, Your will be done in my life."

Live a life pleasing to your God! Live a life of obedience.

Jesus is an amazing example for us of living a life pleasing to God, in total obedience.

Consider when Jesus was in the Garden of Gethsemane,

Jesus didn't "feel like" going to the cross and He poured out His heart,

"Father, if You are willing, please take this cup of suffering away from Me.

Yet I want Your will to be done, not Mine."

Luke 22:42 (NLT)

Jesus knew dying on the cross, shedding His blood, was for the forgiveness of sins for the whole world. Jesus was willing to surrender to the will of His Heavenly Father and do the good and pleasing, perfect action in obedience to God's plan.

"Don't copy the behavior and customs of this world,

but let God transform you into a new person

by changing the way you think.

Then you will learn to know God's will for you,

which is good and pleasing and perfect."

Romans 12:2 (NLT)

"Do not conform any longer to the pattern of this world,

but be transformed by the renewing of your mind.

Then you will be able to test and appriove what God's will is--

His good, pleasing and perfect will."

Romans 12:2 (NIV)

"And do not be conformed to this world,

but be transformed by the renewing of your mind,

that you may prove what is that good and acceptable and perfect will of God."

Romans 12:2 (NKJV)

As we are transformed, renewed in our mind, then our actions will prove His good and acceptable and perfect will. We will be obedient to God's plan--choosing to make His priorities, our priorities.

"But seek first the Kingdom of God and His righteousness

and all these things will be given to you as well."

Matthew 6:33 (NIV)

The Calling of the First Disciples is found in Matthew 4:18-20 (NIV)

"As Jesus was walking beside the Sea of Galilee,

He saw two brothers, Simon called Peter and his brother Andrew.

They were casting a net into the lake, for they were fishermen.

'Come, follow Me,' Jesus said, 'and I will make you fishers of men.'

At once they left their nets and followed Him."

When Jesus called these two brothers to follow Him, they quickly responded, dropping their fishing nets, putting their priorities in the right order. They left their careers/jobs, family, they left everything from A-Z to follow Jesus and serve in the Kingdom of God--following God's plan, living His righteousness, His will, His call.

To follow Jesus means that we leave our "nets" behind just like Peter and Andrew.

What is the Holy Spirit wanting you to leave behind? What is preventing you, holding you back, from fully surrendering to Father God and following His plan for your life?
Are you ready to leave "the net" behind? I pray you are. I pray you repent before Father God and experience His abundant plan.
PRAYER: Dear Jesus, yes, You are first in my life. I pray your Kingdom come and Your will be done in my life here on Earth, the same as Your will is done in Heaven. I agree with You, I want your plan for my life. My heart agrees with Your heart, I surrender to you. In Your mighty Name I pray. AMEN!"
SONG: "Yes, Lord, Yes" by Shirley Caesar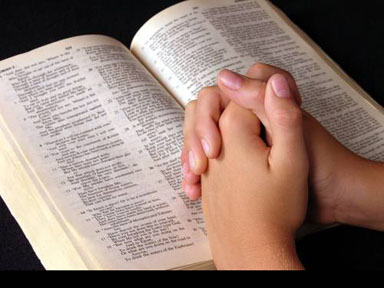 l say yes, Lord, yes
To your will and to your way.
I'll say yes, Lord, yes
I will trust you and obey.
When your Spirit speaks to me
With my whole heart I'll agree
And my answer will be yes, Lord, yes.

Verse:
Lord, I give you all the glory
For what you've done for me (or 'for what you've given me')
You fill my life until I overflow.
All I have (or 'am') is yours to use
Anyway you choose.
You're the Lord of lords, so how can I say no?

GOD BLESS AND LEAD YOU!
TO SEND A PRAYER REQUEST OR MAKE A COMMENT BY EMAIL
CLICK HERE