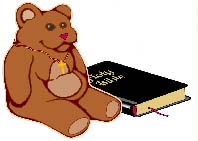 April 2009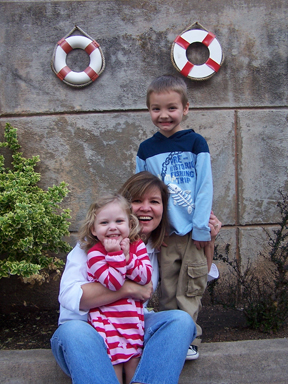 Dear Precious Parent:
Good News! Gary and I are going to be grandparents again; Luke and Angela are expecting in October. One of the greatest joys I have is to be a grandma and hang out with my precious grandchildren, Bella and Beaux. This picture was taken March 30 as we celebrated Bella's 2nd birthday. Bella's daddy, Luke, was taking the picture. Bella would not laugh, or even crack a smile, so her daddy began making all kinds of weird faces, including one very scary one. Bella loved it, but Beaux wasn't too sure about it. Of course, it was hilarious to me.
Later, Bella, (and everyone else) went inside, that left Beaux and me alone. He called out, "Grandma, come sit by me" as he trotted off to his little canvas folding beach chair on the patio, then added, "put your chair right next to mine," which I did. As we sat there, just the two of us, five-year old Beaux chatted away. All the sudden Beaux pointed to the sky and yelled, "Grandma look at that!" I could hear an airplane (we aren't too far from Tinker Air Force Base) so I was looking for an airplane, but I couldn't see one. Then he added, "The moon, right there." Then I spotted it in the dusk-blue sky--a sliver of a moon. It was positioned perfectly as I shared with Beaux that it looked like a smile and I could just imagine God looking down and smiling at us. Beaux responded, "It looks like a banana to me, but it could be a smiley face, too." I took the opportunity to share with Beaux that God made him, God loves him, and when God looks at him it puts a big smile on God's face.
This morning as I was thinking about what I would write for the April "Precious in His Sight" webpage (boy, is this ever last minute--it is March 31 as I type) I thought about Bella's birthday party, the fun time we all had and the great memories that were made. I picked up my Bible and a note fell out. It read, "For Rhonda, God's luggageless child." I thought, "Oh, yeah, I remember putting that note in my Bible last November." I flew to Seattle, had arrived safely, but learned my luggage went a different direction and would not arrive before I arrived back home. To make a long story short, this sweet gal brought me a bag of clothes, snacks, even a Pocket New Testament.
As I read those words again, and again, "God's luggageless child, God's luggageless child . . ." I thought about Heaven. We can take no luggage, no stuff, with us to Heaven. We arrive "luggageless". Well, there is one "thing" we can bring with us to Heaven--the people God draws to Himself as we share His love and His Word with those He brings into our path. And there is one other thing we can do, we can pray. Just imagine the God who made the world, and everything in it, wants us to talk to Him. And, amazing as it may sound, He wants to talk to us too. God is crazy in love with us--that comment inspired by a book I am reading right now "Crazy Love" by Francis Chan. You can check it out online at www.crazylovebook.com.
What a privilege we have to bow before Almighty God, child to Father, and pour out our hearts to Him. Whether you go to Him with thanksgiving and praise, or are going through a rough time and just kneel silently in His presence, He is watching, listening, and answering. I want more than anything for my family and friends, my grandchildren (even my future great grandchildren to a thousand generations) to be THERE on the other side for all eternity! I'm sure that is your desire too. Perhaps you are praying for a wayward spouse, child, grandchild, friend, do not give up hope, the God of all hope says in James 5:16b, "The prayer of a righteous person is powerful and effective." I hope the Precious Prayer Calendar* below is a helpful tool as you pray, and I encourage you to trust the Lord Jesus as you pray realizing--God is love and He is crazy in love with you and the people you care about.
Praying with you!
In Christian Love,
Rhonda
RETURN TO WEB PAGE Precious in HIS Sight

* Scripture Prayer Calendar Deleted