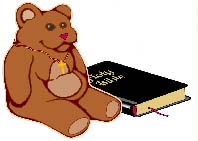 December 2009
A VERY BLESSED CHRISTMAS FROM OUR FAMILY TO YOURS!
Left to Right: Lanie, Gary, Rex, Rhonda, Luke, and Angela.

Grandchildren: Beaux, Isabella and Elizabeth in Rhonda's arms.

I encourage you to read Gary's letter and also his Christmas Devotional. I know you'll be blessed!

Gary is some better, but still needs prayer regarding his health. Also, Luke (our youngest son) has accepted a job promotion and is moving this month to Florida. Of course, we are excited for Luke and Angela and this wonderful door the Lord has opened, at the same time we are sad and will miss them so very much. We would appreciate your prayers. THANK YOU.
Dear Precious Parent:
I enjoy Christmas and all the traditions we have developed through the years. For one thing, Thanksgiving Day we exchange ornaments, not just any ornament. Each family member selects and gives each other ornaments with a special meaning. For example: This year Rex and Lanie gave me a Nativity ornament spelling out the word "Faith". (I always have a theme for Christmas and this year it's "Faith".) Luke and Angela gave me a Nativity ornament, too, and shared, "Mom, because we're moving to Florida, and won't be here for Christmas, this ornament will remind you of the true meaning of Christmas".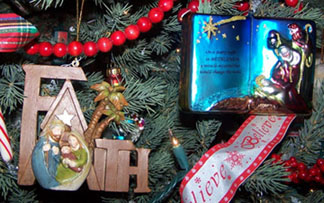 Since Luke and Angela will be leaving for Florida soon, we will celebrate Christmas Sunday, December 12. (As I type this letter it's the beginning of the month.) Anyway, Gary and I finished our Christmas shopping and I've started wrapping the gifts. But let me back up . . .
As I was getting ready for church recently, I noticed there were red marks on my knees and thought, "I wonder what that's from?" No sooner did I have the thought and I knew. Well, I wish I could tell you it was because I was on my knees so long in prayer that--being in His presence--was the reason. However, that was not the case.
I did wake up early that Lord's Day, but decided to forgo my time with the Lord 'til later, after all the night before, I had played my keyboard and worshipped Him in song, not to mention I read a Christmas devotional before I went to bed. So I skipped my "quiet time" with the Lord and decided to wrap Christmas presents instead. One look at the diningroom table stacked high with decorations, boxes and bags, I decided to wrap the presents on the livingroom coffee table. You've got to picture this: There I was standing in the middle of presents spread out all over the livingroom floor, along with various rolls of Christmas wrapping paper. With tape and scissors in hand, I got down on my knees before the coffee table and began the task of wrapping presents. People who know me well realize when I get in this mode I'm like a tornado--full speed ahead--in other words, stay out of my way. Fortunately, Gary was still in bed.
The house was quiet except for the noise of wrapping presents. I didn't even have Christmas music playing like I usually do. It was kind of a thoughtless process except for what I thought was a brilliant idea. Each person had a designated Christmas wrap so I knew which gift belonged to which person, and it saved me the time of labeling each present.
Gary woke up one and a half hours later and there I was still on my knees. Granted I had gotten up several times to refill my coffee cup. I decided it was time to put everything away as our two year old granddaugher, Isabella, would be coming over after church (yikes--too much stuff to get into!) plus I needed to get ready for church.
So there I was getting ready for church . . . staring down at my red knees. My Father God loves me so much and gave me the "Goditude ajustment" I needed that morning. THANK GOD! He is so gentle, loving and kind. No yelling or belittling me. All He did was show me what it could have been like. I saw myself on my knees wrapping presents. Each time I picked up a present and began to wrap it, I began praying for the person that present was for. One present after another, each time followed by a hearty--AMEN.
I'm so thankful it's not too late, I still have a few more gifts to wrap. I look forward to wrapping them (on the diningroom table!) but it will be different. As I wrap each gift I will be praying for each of these people whom I love so dearly. I encourage you to do the same as you wrap Christmas presents this year. Also I will be remembering the Greatest Present Ever. The Lord is so good to me, He even inspired me to write a little poem with that very title, and I'm pleased to share it with you.
Greatest Present Ever

Here I am again

on bended knee,

pouring out my heart

this Christmas let it be--

Not about the tree,

decorations, busyness, or me.

Not about the presents, Lord,

Your presence is what I need.

Draw me to the manger.

Lead me to the cross.

Show me what it cost You,

to save me--one so lost.

Fill me with Your love,

Your peace, and joy,

as I ponder the Greatest Present Ever--

God's Christmas Baby Boy.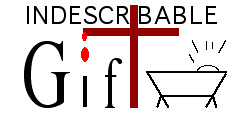 Christmas is really about God's Christmas Baby Boy. Immanuel, God with us. Jesus, the Savior of the world. Paul says it best in 2 Corinthians 9:15, "Thanks be to God for His Indescribable gift!"
And speaking of gifts, as I always say, "Children ARE a gift from the Lord" (Psalm 127:3b). Yes, let's pray for our children (family and friends) as we wrap their gifts this Christmas, but don't let it stop there. Pray for them daily. Below is the Parents' Scripture Prayer Calendar--a tool that I trust will be of help as you pray for your children and be encouraged by James 5:16b, "The prayer of a righteous person (MOM an DAD) is powerful and effective."
I pray you have a very Merry Christmas and that 2010 will be your best year ever!
Love,

Rhonda

RETURN TO WEB PAGE Precious in HIS Sight

* Scripture Prayer Calendar Deleted

Entire Website Copyright 1999-2009 © Deaf Ministries Worldwide "Greatest Present Ever" © 2009 Rhonda L. Barrett