---

NEW! SPECIAL UPDATE: "Everlasting Word", "Beautiful Hands", "Forever Friends"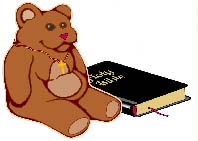 June 2009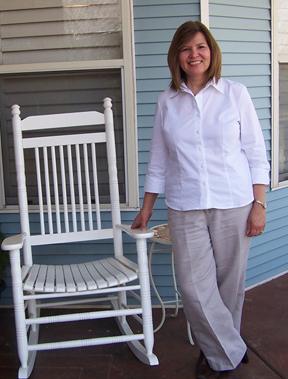 GREAT NEWS!

We just found out that Luke and Angela are having a girl!

They've already picked out a name, Elizabeth Pearl.

Elizabeth is due October 19 (the day after my birthday).

Appreciate your prayers for healthy baby and mommy.
Dear Dads and Moms:
Dads, Happy Father's Day;

I hope you have a great month!
Of all the things I love about Gary, one of my favorite is that he's an awesome Dad. Even before we were Christians he was an awesome Dad. This picture of Gary holding Rex and Luke is one of my favorite. (Sorry the picture is not better quality. It is an old picture from 1982.) It really catches the essenc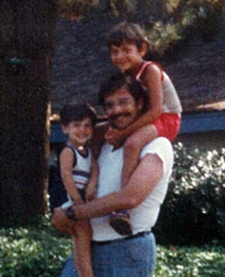 e of who Gary is. He loves his family and enjoys having fun. In fact, he has this incredible ability to forget about work when he arrives home from the office. I've had a harder time doing that, probably because of all the responsibility I took on at a young age. Mom was divorced and became an alcoholic. There were four of us kids. Me being the oldest girl, I became Little Miss Mom--cleaning house, doing laundry, etc. and making sure my younger siblings got ready for school and arrived to school on time. Fortunately, as we were growing up, one of my sisters became the cook. And very fortunate for me, Gary is the cook in our family. He loves to cook. I just stay out of his kitchen and enjoy his great meals, along with anyone else who is eating with us. His cooking--that is another thing I love about Gary. Anyway, through the years Gary has taught me (forced me--smile) to put work on the back burner, enjoy life, and have fun. Thank God!
When Rex and Luke were growing up, Gary was always ready to play and have fun--evenings, week-ends, vacations (sometimes we'd even have a day where we all played hooky). We all have great memories of those times and continue making new memories to this day. Gary could make an adventure out of lunch, actually he still can. I remember after he became Deaf, I went back to work and he became Mr. Mom for a while. The boys were young, only one and four years old. Often Gary would pack a lunch, a blanket, a ball or frisbee, and he and the boys would meet me for a picnic lunch where I worked. We would meet on the office grounds (which looked like a garden with its acres of grass, shrubs, flowers and trees) and enjoy the simple pleasures of life--JUST BEING TOGETHER!
Precious parent, enjoy life today! Enjoy your family today. Time goes by so fast, and we do not have a promise of tomorrow. Don't wait to enjoy life until later. Later may never come. I'm thankful Gary has helped me to forget about what all "has to be done" and just enjoy the adventure today. The work will always be there, and that is one thing I know for sure.
I often share this scripture from Psalm 127:3b, "Children are a gift from the Lord." Dads, I believe that you, too, are a gift from the Lord to your family. You've probably heard this before--the first picture that children have of Father God is the picture they have of their earthly father. Wives think about that! That is an awesome responsibility that I, for one, would not want. It just makes me realize how much our husbands need our prayers. In fact, if we are not praying for our husbands, then who is? Probably no one!
This month as you pray for your children the scriptures from the Prayer Calendar* add your husband's name and pray the scriptures over him, too. In addition to the prayers for the man God has brought into your life, let him know how much you love and appreciate him.
There is a saying that goes, "The family that PRAYS together stays together." I believe it's also true, "The family that PLAYS together stays together." Have fun! Play more! And continue praying knowing the truth of James 5:16b, "The prayer of a righteous person is powerful and effective."
By the way, this Father's Day, if your father is still around, be sure to send him a card, even call him. I thank God my Dad is still alive. He is 80 years old, and it is a joy to be able to call him anytime and say, "Hi, I love you, Dad", but especially on his special day.
In Christian Love,

Rhonda

RETURN TO WEB PAGE Precious in HIS Sight

* Scripture Prayer Calendar Deleted