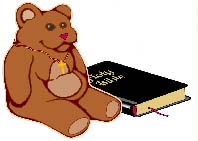 March 2010
Dear Precious Parent:
Spring is in the air and I'm so glad! This winter, the Oklahoma weather has broken all kinds of records. We've had over 20" of snow and it has been freeeeeeezing ALOT! I'm glad it's warming up. It's nice to take my Bible, coffee and journal out to the front porch and have my "quiet time" with my Lord Jesus while enjoying His creation.
Sunday, February 28, was an emotional day at church watching over 30 people being baptized. There was a portable swimming pool set up with a video camera focused on the excitement taking place. And exciting it was! The video was being streamed onto large screens for all to see. I watched families, singles, even one couple "spooned" were baptized at the same time. It was inspiring. I watched and worshiped our God, who is mighty to save, with tears streaming down my face.
I couldn't help but think back to 1978 and remember the day I walked down a church aisle, knelt at the altar and prayed for Jesus to save me. I am a living testimony that God is not only MIGHTY TO SAVE, BUT HE IS MIGHTY TO KEEP! I would be so utterly lost without Him. So much has happened since that glorious day I surrendered to Him. WOW! What a privilege to live and love in Christ, to walk in the light of His Word. Truly nothing compares to His abundant life. Not that life is always perfect or that everything always goes the way I want. I do go through valleys, sometimes sorrows and pain, but nothing compares to experiencing the presence of God!
I remember when I was first saved, I couldn't wait to attend church. And I thank God that today I feel that same way. I'm looking forward to attending church Sunday. I enjoy my daily time with the Lord. I love His "love letter" to me (the Bible). I love talking to Jesus and hearing His gentle voice speak to my heart.
Our attitude toward church, reading His word, talking with others about Jesus, and having a "quiet time" with the Lover of our soul is important. Our children are watching. If you are like me, you want your children to enjoy going to church, reading their Bible, talking to others about Jesus, and spending time with Him. If we're excited about it, then it rubs off on them, it influences them. Now that I have grandchildren I pray my life influences them in a positive way. Something else we can do to impact our children, family, our friends is--pray for them. According to James 5:16b, "The prayer of a righteous person (MOM an DAD) is powerful and effective."
This month as you pray scriptures over your children, I encourage you to pray the "31 Powerful Ways to PRAY for Your Children"* If you'd like the brochure, let me know. I will be glad to mail it to you.
Have a blessed month in Jesus Name, and see you next month, here, at Precious in HIS Sight.
Love,

Rhonda
PS: Recently, I was reading Matthew 6:30-33 from various Bible translations. This translation from The Message touched me deeply and I pray you are blessed too. "If God gives such attention to the appearance of wildflowers--most of which are never even seen--don't you think He'll attend to you, take pride in you, do His best for you? What I'm trying to do here is to get you to relax, to not be so preoccupied with getting, so you can respond to God's giving. People who don't know God and the way He works fuss over these things, but you know both God and how He works. Steep your life in God-reality, God-initiative, God-provisions. Don't worry about missing out. You'll find all your everyday human concerns will be met."
RETURN TO WEB PAGE Precious in HIS Sight

* "31 Powerful Ways to PRAY for Your Children" Deleted
Website Copyright 1999-2010 Deaf Ministries Worldwide