February 2010
Dear Friend: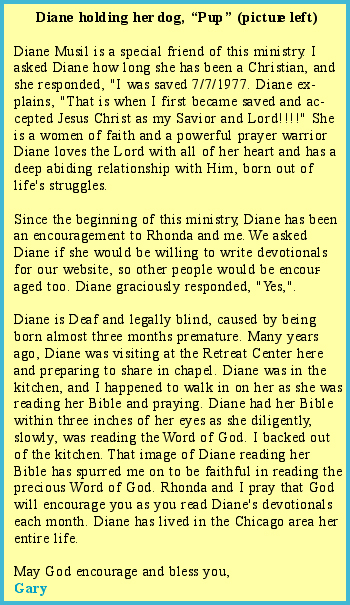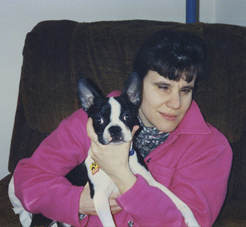 I have a question for you: Does praying ever seem boring? If you're like me then sometimes praying does seem boring. Praying becomes the same old routine over and over again, blah, blah, blah. Most of us do experience that sometimes and our prayer time becomes just one more thing that we "have to" do, a duty.
How can our prayer time change from duty into delight?
We need to recognize that praying is having a relationship with God and it is a life-long process. It is a step by step process of learning how to pray. Yes, we need to learn how to pray.
Even Jesus' disciples who were with Him day after day asked Jesus to teach them to pray. Jesus responded to His disciples with a model prayer, an example of how we are to pray. This prayer is called the Lord's Prayer.
If you've not yet read the first devotional in this new series I encourage you to do so. You can scroll down to the ARCHIVES below--see January 2010.

I AM EXCITED TO SHARE THIS SECOND DEVOTIONAL IN OUR NEW SERIES.

"THE LORD'S PRAYER"
The Lord's Prayer, Matthew 6:9-13, is just 56 words in the King James Version. Yet these 56 words have had a powerful effect on our history heritage as well as our Christian heritage.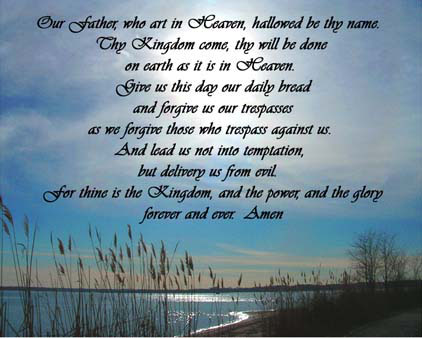 Last month I shared five words that summarize The Lord's Prayer. Each of these five words begins with the letter "P".

This month I'm going to focus in on the first "P" word:

PRAISE
Matthew 6:9 (NIV) reads, "OUR FATHER IN HEAVEN HALLOWED BE YOUR NAME."
OUR

Our is the first word of The Lord's Prayer. This word gives the idea of unity, of oneness.

FATHER

In the Old Testament the word "Father" appears 15 times, all in relationship to the Nation of Israel not as a personal God to an individual. God reveals Himself as Elohim: "God" as Jehovah/Yahweh "Existent One", "I Am".

In the New Testament we learn that through faith in Christ, God becomes "Our" personal "Father" and is used 245 times with the emphasis on the loving care, provision, discipine, and the way we are to approach God in prayer. "Our Father" becomes personal to us, to all people, to the Jews and to the Gentiles, one to one (with the Father).

IN HEAVEN HALLOWED BE YOUR NAME.

We are to approach Him humbly, with reverence for He is HALLOWED/HOLY. His Name is HOLY.

John 4:23-24 (NIV)

"A time is coming and has now come when the true worshipers will worship the Father in spirit and truth,

for they are the kind of worshipers the Father seeks.

God is spirit, and his worshipers must worship in spirit and in truth."
In the verse above do you see who the Father seeks? He is seeking for people who will come to Him and WORSHIP Him in spirit and in truth, in honesty. I want to be someone the Father God seeks! I'm sure you do too.
Jesus, Our Lord, often went alone to pray so that He could spend time with His Heavenly Father (Our Heavenly Father). Jesus would enter God's presence and fellowship with Him, and enjoy a relationship with Him.
We too can have fellowship and enjoy a relationship with Our Father. When we enter God's presence we should do so with worship and PRAISE in spirit and in truth.
Romans 8:15 (NIV)

"For you did not receive a spirit that makes you a slave again to fear,

but you received the Spirit of adoption. And by him we cry, 'Abba, Father.'"
We are "adopted" by Our Heavenly Father. We are His children and He is our Father. "Abba" means "Father, Daddy."
When you were growing up was your earthly father not in the home? Was he missing? Were you fatherless? In the Bible we learn that Abba Father will be your helper and Father; and He will always be there for you!
Psalm 10:14c (NIV)

"You are the helper of the fatherless."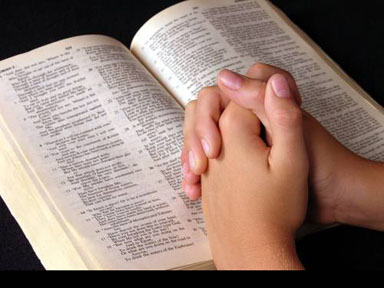 As we get to know "Our Father" through spending time with Him in His Word we get to know Him more, and we can't help but worship and PRAISE Him. He is so worthy! I encourage you to enter His presence with worship and PRAISE. He is seeking for you, and me, today as we "worship Him in spirit and in truth",.
One of the ways we can know God more deeply is by finding out the NAMES of God througout both the Old Testament and New Testament and by learning what they mean. This is a wonderful link with very detailed information about the NAMES of God.
SONG:
Abba Father, we will never stop loving You.
Abba Father, we will never stop worshiping You.
Abba Father, we will never stop knowing You.
PRAYER: "Our Father in Heaven, Holy is Your Name. We revere Your Name. We come before You with open hearts to worship You. You are Jehovah, Yahweh, the Great "I Am". We praise You. You alone are worthy of our praise. In the Mighty Name of Jesus we pray. Amen and Amen.
GOD BLESS YOU!
ARCHIVES

2010

2009

December "Born to Die" (by Gary Barrett)

November "THANKSGIVING" acronym

October "Eagle Renewal"

September "The Eagle's Enemy"

July/August "Through the Storms"

June "The Eagle's Lifestyle"

May "Learn to Fly"

April "Eternal Eyes"

March "Under the Shelter of His wings"

February "Mount Up With Wings Like Eagles"

January "His Faithfulness"

2008

December "Born to Die"

November "THANKSGIVING" acronym

October "Psalm 23" conclusion

September "Psalm 23:6"

August "Psalm 23:5"

July "True Liberty"

June: "Psalm 23:4b"

May: "Psalm 23:4a"

April: "Psalm 23:3b"

March: "Psalm 23:3a"

February: "Psalm 23:2"

January: "Psalm 23:1"

2007

December: "Born to Die" (by Gary Barrett)

November: "Thanksgiving-Give Thanks (acronym)"

October: "Discover the Peace that God Gives"

September: "The Heart of a Pilgrim"

August: "Abide"

July "True Liberty"
TO SEND A PRAYER REQUEST OR MAKE A COMMENT BY EMAIL
CLICK HERE